Qualities of a Good Administrator in Education
Qualities of a Good Administrator in Education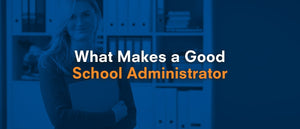 Being a school administrator can be one of the most challenging but rewarding jobs you can have. Your responsibility lies in educating students and being a prime role model for them to look up to. Being an outstanding school administrator may begin with a college degree. But your success ultimately hinges on personal leadership qualities that set up your students to be successful, responsible and accountable in and out of the classroom.
Whether you've had a long career of teaching or are new to your leadership role, adopting the qualities of a good school administrator can make all the difference in preparing your students for adulthood and long-term success. While there isn't an exact formula for becoming an excellent school administrator, you can become the best resource and guide for your students by leading by example.
What Makes a Good School Administrator Video
What Is a School Administrator?
As you might already know, a school administrator comes in many forms. This title applies to superintendents, principals, and everyone on campus who has a leadership role. These roles can belong to head teachers, vice principals, disciplinarians, school program directors and anyone else who oversees administrative tasks within primary, secondary and postsecondary schools. A school administrator will manage and organize the operations within a classroom and on campus while ensuring students' safety, growth and development.
To become a school administrator, you'll need a degree in education administration or a similar field. This role's typical degree levels are master's, educational specialist, Ed.D. and Ph.D. in education. In many states, an aspiring administrator will have to apply for a certification or license, plus have experience teaching in a classroom. This experience allows them to better relate to the responsibilities and challenges of an educator. For additional information on how to attain an administration certificate within your state, you can visit the Department of Education website.
About the School Administrator Role
A school administrator takes on more responsibility than you may realize. Their duties will vary depending on the school's size and the level and type of education offered. Today, school administrators must fulfill the following obligations:
Create collaborative environments between teachers and faculty.
Provide effective instructional leadership.
Create and adhere to a budget.
Hire and train staff members.
Provide opportunities for leadership growth for faculty members.
Make strategic decisions.
Design educational programming.
Manage scheduling and record-keeping.
Resolve conflicts.
Prepare for the best

-

 

and worst-case scenarios.
Communicate with the student body, faculty, parents and school board.
Ensure the school adheres to necessary laws and regulations.
Be the prime example of school pride and leadership.
With the fast-paced development of technology, spreading of falsified data, discovery of new information, constant access to the internet and the changing work styles of parents, educational staff face new challenges and responsibilities every year. It is up to school administrators to manage these changes, pave the way for order and adaptation and conform to increasing financial cutbacks. School administrators need creative and dependable strategies for ensuring their students' and staff's growth and success.
What Is Effective School Leadership?
Leadership in education is vital in ensuring student and institutional success. Effective leadership can help improve learning and teaching and boost performance at educational institutions. High-level administrators, like principals, control fundamental assets of an institution, such as hiring high-quality teachers to educate students. These important decisions impact student learning and experience, leading to shifts in performance and achievements.
Qualities of a good school leader include:
Establishing clear goals: School leaders must define and state goals clearly so everyone in the organization understands the objective. Outline your purpose for setting the goal so other teachers, faculty and staff know their role in helping accomplish it.
Providing meaningful feedback: Giving assessments, reviewing data and providing feedback are essential. Use every feedback opportunity as a chance to offer praise and advice for improving. Feedback can enlighten people about their strengths and weaknesses, and you can help your team identify pain points and ways to overcome them to strengthen your team.
Host productive meetings: Hosting meetings for the sake of saying you did so is not productive and can harm team morale. When you invite team members, colleagues and peers to a meeting, ensure they know you mean business and respect their time. Always have a plan and meeting outline to follow and keep a steady flow.
Empower others: Leaders organize their institutions to focus on success. Similar to corporate leaders, administrators must manage and influence staff. You have to feel comfortable empowering your staff and taking the necessary steps to boost positive decision-making. Accept responsibility for your team's actions and continuously look for ways to benefit the institution.
Effective school leadership and management will help you better understand your staff, their capacity and how to communicate needs and goals. When you possess these qualities and apply them to your job, you can make immense strides for your team and institution. On top of these qualities, school administrators need to display a few others.
10 Qualities of a Good School Administrator
When you are a leader in the school, everyone who walks through the building will depend on you for guidance in daily decisions and unpredictable disputes. Your role also extends beyond a leadership position. Your influence as a friend, advisor and mentor to students and staff will transform your school. Adopting the following qualities can help you understand your duties and create a lasting impact.
1. Embracing Your School's Vision and Mission
There is an unfortunate stigma of children dreading going to school. While the media and other sources propagate this, you have the chance to change the image of school life. Like a mascot, you represent your school's values and mission visually and internally. While donning your business attire, you need to put on your school spirit hat and show pride in your school. 
It also means visualizing the best within your school and manifesting that vision for your students and teachers. Students and teachers will recognize your initiative and trust in your decisions as a leader. You need to create realistic long-term and short-term goals to bring the school's mission to life. By investing in your school's ideals, you are gaining that investment back with the support of your staff and students.
2. Cultivating Community and Communication
As the head of the school, you are the person everyone looks to for information and guidance. When something goes wrong, it's up to you to resolve the conflict. When good news arrives, it's your duty to be excited and openly share it with students and teachers. The students, staff and parents invest their time, money and energy into your school. They have a right to know where you are allocating those resources and how you are using them to improve student and teacher life.
A successful leader knows how to bring the members of their group together and develop an efficient team. You should be approachable, friendly and accepting to every member of your community. School leaders are visible at functions and have open communication with anyone who plays a role in a student's success. Your attitude can transform your school into a fun learning and nurturing environment.
Read more about how to effectively engage your students and sharpen their focus.
3. Being Open and Adaptive to Change
Technology has completely changed the teaching profession. From the innovation of the SMART Board to total online transitions, it's safe to say that teaching is nothing like it was 10 years ago. In the 2010s, standardized testing and the Obama administration's initiatives changed the purpose and goal of education. The 2020s have shifted the climate back to personalized interactions with mental health checks, frequent teacher evaluations and confrontation of current issues.
The news is everywhere, and children are very much aware of the world around them. While you have a duty to remain neutral, these changes also call you to be open and adaptive. There is no way to predict what the future holds. However, you can anticipate that you will be a figurehead in the decision to incorporate or exclude technological and environmental developments.
Use these changes to improve your students' and teachers' surroundings and programming to aid success and growth. Remember, you set the standard and will be accountable for representing the school's greater interest.
4.
 

Using

 

Data for Greater Development

One of the many benefits of today's technology is that useful information is available and easily accessible. Successful school administrators use the information provided by standardized tests, current surveys and statistics and assessments to drive innovation and improvements to strategically benefit students. Data allows you to make informed decisions. Learning to ask useful questions and engagingly share practical information will create an environment for collaboration and progress.
5. Demonstrating Honesty and Integrity
Making decisions on the fly is a necessary trait for developing leaders. Unfortunately, not every decision you make will be the right one or the most popular. As a consistent presence in a child's life, you hold them to a standard of upholding honesty and integrity. Just as you trust your students not to cheat on a test or quit a sports team mid-season, your students and faculty are trusting you to be their voice and do what's best for the school.
No one is perfect. When you make a mistake, it's best to take responsibility. Your staff and students will appreciate your honesty and character, which will last longer than the memory of a flub. These character traits alone can cultivate tomorrow's leaders, empowering them to hold themselves and others accountable, even when it's hard. Commit to being transparent with the people in your school and uphold your word and promises.
6. Leading by Example
School administrators must display continued dedication and unparalleled passion while doing a lot of hard work. Excitement is essential to finding happiness in any job and can dramatically impact your performance and interactions with others at your school. Passionate leaders set the example for excellence and resilience, finding ways to encourage and inspire their teams for exponential growth.
Show pride in your school to spark school spirit. Lead with respect to earn it from your peers and students. Invest in your students to motivate them to do better and believe in themselves. Provide them with the tools to succeed, and your school will transform into a fun and engaging place to learn.
7. Being Persuasive
Persuasiveness is an effective quality in successful school leaders who need to accomplish a lot. In an environment where everyone is so passionate about their work, it helps to have skills that allow you to unify your mission amid many opinions. Persuasive action can also encourage collaboration and teamwork among colleagues to achieve shared goals. It's an excellent way to get your staff on the same page. 
8. Empowering Others
School can be a wonderful place where students feel free to learn and express themselves. However, it can also be an intimidating and overwhelming environment. Thus, it's essential to foster a space where students feel empowered to believe in themselves and raise their hands with confidence — even if they have the wrong answer. The possibility of being wrong takes courage, so you should aim to make your school as empowering as possible.
Extending encouragement extends beyond students. Trust your faculty to push their students, and show you have faith in their abilities to do what's right for their classes. They might believe in themselves more if it's obvious you believe in them, too. Support faculty in their decisions and ideas.
9. Acting Decisively
Sometimes you'll have plenty of time to make decisions, while other times, you'll need to quickly make informed and logical decisions. Regardless of the situation, the ability to act decisively is an integral part of being an effective school leader. 
You'll have to make a lot of challenging decisions as a school administrator, from deciding on difficult budget cuts to finalizing disciplinary action. Finding the appropriate solutions to these problems and being confident in those decisions is paramount. Try to approach decisions with empathy, logic, compassion and patience. 
10. Managing Risk
As with any leadership position, school administrators must weigh the pros and cons of every potential opportunity or risk that would affect their school. Effective leaders know how to analyze different possibilities and conceptualize the impact each could have. Managing risk helps school leaders make more informed decisions. 
Advice for School Administrators
Success doesn't happen by accident — you plan for it! Adopting this mindset for your standards will stimulate growth and development that exceed the highest expectations. The following tips for school administrators can take you from an operations facilitator position to a genuine, active leader.
1. Listen to Input From Your Staff
It's easy to get caught up in the stress of everyday life. While a laser-sharp focus may be one of your strong points, it can inhibit opportunities to connect with staff and learn from their experiences. After all, your teachers might know the students better than you do because they often interact with them for long periods throughout the week. 
First-year teachers will have the most recent data regarding childhood development and psychology fresh in their minds. The veteran staff at the school will have years of real-world experience that can help you make challenging decisions when unpredictable circumstances arise. All these factors and more can prove to be valuable in ensuring your students' success, today and in the future.
2. Connect With Students in the Classroom
The best way to understand what your students and staff go through is by sitting in the classroom with them. You'll have a firsthand perspective from the students and teachers, which can inform future decisions and create empathy when connecting with students. Though children's feelings and opinions are real and valid, other adults might fail to acknowledge that. The classroom is the perfect environment to level with them, build compassion and establish trust.
3. Make an Effort to Engage Both in Person and Virtually
If the last few years have proved anything, it's that technology is necessary for everyday life and vital for a student's growth and success in school. Whether students attend school in person or virtually, as a school administrator, you should make the extra effort to engage with the curriculum and activities. Times are changing rapidly, and students, teachers and parents are doing their best to keep up.
Your support will make a world of difference to anyone who is struggling. Lending an extra hand, being a soundboard for advice and reasoning and fully understanding the changes that are occurring will make you a better leader. This effort can also give your teachers better support systems for the students. Learn the best methods for virtual interactions for greater success.
4. Give Your Students the Materials They Need to Succeed
The best school administrator advice is to provide your students with high-quality materials to aid their journey through school. Planning and organizational skills are crucial for students as they transition into adolescence and adulthood. Time management, goal-setting skills, independence and personal responsibility are character traits you can instill at any school age. 
Resources like planners have proven to:
Increase productivity.
Prevent procrastination.
Improve focus.
Create consistency.
Prioritize task management.
Reduce stress.
Reinforce responsibility.
Provide structure and motivation.
While any planner is better than nothing, paper planners have the advantage over digital tools. Why? Research has shown time and again that too much screen time can cause developmental delays and damage to a student's brain. Increased screen time impacts cognitive function, cortical thickness and dopamine function. While typing can be a timesaver, writing by hand helps students with retention, improves composition and creative expression and strengthens fine motor skill development.
5. Assign

More Tasks

While checking tasks off your to-do list yourself can be inspiring, delegation is also vital. Delegating shows you trust your colleagues with mission-critical work, which can boost morale. Additionally, assigning more tasks can make you more productive and improve your staff's skills. You can find more time for top-priority tasks when you delegate some to your staff and faculty. Remember, you are one part of a functioning team, and you don't have to take on every task by yourself. Ask for assistance and reorganize your priorities to stay on track.
6. Priority

 Management

Knowing which school activities to tackle first makes you an excellent school administrator. Save time by prioritizing crucial tasks over less essential, time-consuming duties. The better you prioritize, the easier it will be to check things off your to-do list! 

Prioritization also helps you stay focused on one task at a time, so you can avoid the pitfall of multitasking and complete to-dos in a logical progression.
7. Seek Respect, Not Popularity
It can be tempting to make decisions that reflect the desires of your staff and faculty, but the core of decision-making should always be your students. This strategy will ensure your students receive the best education and opportunities possible. Additionally, many teachers and faculty may be more willing to accept your decisions if they recognize that you prioritize the students.
8. Take Accountability
School administrators are constantly under a microscope. Every school success will earn you praise, and every failure will bring scrutiny. You must understand that you will have to make difficult decisions that can lead to scrutiny and be able to accept responsibility for losses, setbacks and mistakes. Recognize the importance of handling situations differently to discover what works best for your institution and students. You may have to let staff go, uphold school policies, cut a program or otherwise face barriers that you must be able to overcome.
Our Planners Can Help
 Success by Design student planners can help get your students excited about school and encourage them to take their first steps in organization and goal management. Made from quality materials, our elementary school, middle school and high school semester and year-long planners can reinforce and enrich curricula. 
Planners are more than homework trackers. They create a platform for communication between teachers and parents, inspire students with motivational quotes and help your students build routines and healthy habits. Show your school spirit with customizable designs to include your school's colors and mascot. You can even add your student handbook or a hall pass log at a low additional cost, or shop our online-only special for discount student planners.
Call our friendly customer service team at 844-263-0872 to find the right planner for your students. All our products come with a 100% satisfaction guarantee. If you aren't satisfied, we'll replace or refund your purchase. Take the next step in leading your students to success by contacting our team today!