Importance of Organizational Skills for Students
Importance of Organizational Skills for Students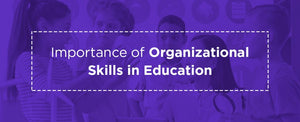 Organizational skills are important to the academic success of students. The more students learn to organize their project processes and personal workspace, the more they can improve focus, project completion and prepare for success post-graduation. Parents and teachers can learn the importance of organizational skills and practice fun activities to foster organization inside and outside of the classroom.
How Staying Organized Affects Academic Success for Students
Organizational skills can benefit students in various ways. From helping them develop good task prioritization practices to preparing for the workforce after school, students can equip themselves with the right skills to further their academic success. 
Here are a few benefits of teaching organizational skills to students:
Following directions: When helping your students learn new organizational practices, you can teach them to follow directions. Young children require specific steps and directions before organizing their space, homework or projects. Organizational skills encourage

good listening and time management

while following directions exactly. 

Focusing: Teaching organizational skills to students can also improve student focus. Staying organized while doing homework or finishing projects can help students create long-lasting focus skills. You can even teach students to break each project into different, achievable pieces. Students can focus better once they have clear steps to complete. 
Critical thinking: Organizing projects and homework requires students to stop and think about the task and develop an action plan. By thinking critically about the project, students can train their brains for future tasks.
Independence: Organizational skills prepare students for life after school by improving independence. Organization encourages students to practice independent goal-setting and completion long after the class is over. When students enter college or the workforce, they can be better prepared to handle projects and achieve success.
When Should Students Begin Learning Organizational Skills?
Students should begin learning organizational skills during their early elementary grade school years. Instilling organizational and planning skills during early childhood development is essential to creating intelligent and successful students and workers in the future. A child's early years are when their brains are most prepared for learning new skills, meaning parents and teachers can mold students into ready learners and organized academics. 
Despite early elementary being the most critical time to teach organizational skills, it is never too late to help your student learn more about planning and preparation. Children of any age can be taught new skills in planning homework or project completion and good study skills. Students can organize their assignments, study space, notebooks or planners and teachers and parents can work together to foster organizational skills until students learn to do them automatically and independently.
How to Teach Organizational Skills and What to Focus On
When teaching organizational skills, there are a few areas that each school age must focus on. For example, those in elementary school may want to focus on basic categorizing or planning skills, while those in high school can tackle complex task division and goal setting. Whatever your student's age, teaching them the right skills based on grade level can prepare them for future grades. 
Elementary School Ages
Here are six skills you can teach to elementary school students:
Wants and needs: Help your student differentiate between what they want and need to do. For example, they might want to play a game, but it might be more beneficial to finish their homework first. Learning wants and needs can help students organize their time.
Taking and leaving: Students can learn to take and leave a toy when playing with items or handling papers and projects. Practicing taking and leaving can help prevent messes and ensure students learn to clean up after themselves. 
Labeling and sorting: Help your students learn to sort through objects and label them according to type. Students can learn to organize their space and keep it neat by categorizing particular objects, toys and school materials. They understand that everything has its place.
Planning your day: When teachers help students plan their day, they can learn to point out and remember schedules and events. 
Making a checklist: Create a checklist and help your students check things off the list as they complete tasks. Students can practice time management and task organization by understanding and creating their own checklists. 
Using a calendar: Create a class calendar where students can see what tasks or events will happen throughout the week or month. Calendars help students understand future planning while organizing their thoughts and tasks. 
Middle School Ages
Here are four skills you can teach to middle school students:
Dividing tasks: Teach students to divide their projects into smaller, achievable tasks. Students can learn to keep up with deadlines and hand in assignments on time. They can use a calendar or other planner form while doing a small amount of daily work.
Using to-do lists: To-do lists are one of the best ways to organize events, projects, thoughts and tasks. Teach students to reduce stress through clear to-do lists and due dates.
Color-coding tasks: Encourage students to organize their tasks with visual stimulations. Try color-coding specific tasks using sticky notes or highlighters. Many students find visual reminders can organize their thoughts and make planning fun.
Using a planner: Planners are a great way to visually remind students of project due dates, events or tasks. Many students are visual learners, and a physical booklet can help middle schoolers remind themselves of important information.
High School Ages
Here are four skills you can teach to high school students:
Learning to multitask: Help students learn to work on projects, homework and other tasks simultaneously. Teach them to differentiate between tasks and

prioritize certain tasks

over others using planners, diagrams and to-do lists. 

Using visual organizers: Venn diagrams, maps and graphs can help students find the similarities and differences between ideas and information. Visual organizers teach students about comparisons and help them physically separate information.
Using a planner: A digital or paper planner can help students manage time and complete tasks.

High school students

can practice remembering times, arranging availability and crossing off items.
Learning goal setting: Help students learn how to set goals and plan for task completion. Ask them to explain their plan for completion and offer tips where relevant.
Fun Organization Activities for Students
Fun organization activities can help students learn new skills through interactive tasks. Here are a few games to teach organizational skills to students. 
1. Daily Planning
To practice this activity, make a schedule for the day and show your students the plan. You can organize activities, homework or playtime. Write out some challenges students might face and conduct a discussion where students can talk about their opinions and solutions to challenges. Daily planning activities help students learn to prioritize tasks, remain aware of situations and think critically. 
2. Student Stations
Have students create personalized workstations and let them organize them as they see fit. Gather items and teach them to organize sticky notes, pens, pencils or project materials. Discuss the experience and allow students to think critically and analyze what materials they need and don't need.
3.
Desks and Binders
When conducting this activity, have students create and organize a personal binder. You can teach them to reduce messes and clutter by labeling and categorizing additional items and finding their correct place. Have them place the binder on or inside their desk for improved organization. 
Teaching Organizational Skills With Help From Success by Design
At Success by Design, we offer helpful planners to assist teachers in developing organizational and scheduling skills in students. For over 30 years, our planners have helped students improve their focus, plan out projects and execute their homework effectively. Our products have improved student grades while preparing them for future graduations and adulthood. 
Contact us today or call our friendly customer service team to find the right planner for your students. You can request a sample online and locate the best planners to fit your needs.