How to Stay Connected With Students Virtually
How to Stay Connected With Students Virtually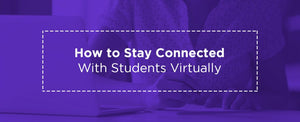 Virtual schooling isn't a new concept, but it's new to many students and teachers who have had to stop meeting in person due to social distancing restrictions. As of last year, over 2.7 million students in kindergarten through high school in the U.S. experienced digital learning, and some of those students even took part in programs that were fully online.
This year, almost every school in the U.S. switched to an online format of some kind, and while online school offers some advantages, many teachers are feeling overwhelmed with how to teach students and help them through a challenging time through this new medium. Luckily, we're here to help with some tips for supporting your students both academically and emotionally during the school year and summer break.
Tips for Distance Learning During the School Year
Teaching online may be a whole new experience. So, let's start with these five distance learning tips to help you have a successful experience teaching your students in this new way.
1. Have a Class Website
One essential for connecting with students virtually is an online hub for your class. You may use video conferencing to teach your students, but you still need a website to serve as your class's hub. Your school may provide a learning management service for you to use, or you can use a free option like Google Sites to create a simple website for your class.
Your class website should be easy to navigate and should, at the very least, list the current assignments, along with instructions and due dates, to make it easier for students and parents to follow along. This is also a great place to share helpful resources, like links to educational websites that might help with assignments or supplementary learning.
2. Work on Digital Literacy
We tend to think of students as digital natives who are typically more adept at using computers than adults are, but that's not necessarily the case. For one, some students suffer from what's known as the digital divide. In other words, they may not have access to much technology at home to help them become digitally literate. Even for students who do use digital devices at home, this doesn't always mean they know how to use technology for school.
A recent study revealed that just 2% of U.S. eighth-graders reached the highest proficiency level for computer and informational literacy, and 10% of students didn't even reach the lowest benchmark for proficiency. You can expect many of your students to hit roadblocks when using technology for purposes like research, so work with your students on these skills and provide resources they can consult as guides.
3. Maintain Classroom Traditions
Everything can feel out of whack to both you and your students when you go from a routine that feels comfortable and predictable to a whole new normal. Because so many aspects of the school experience are forced to change, it's crucial that you look for aspects of your old routine that you can preserve to make things feel a little less different. Think through your typical classroom routines and traditions, and see if you can translate any of these things into a digital format.
For example, if your students are used to a morning routine of getting the wiggles out, try to continue this through a video call. If you have a classroom pet, let your students see the pet from time to time. If you normally display stellar student work on a bulletin board in the classroom, try displaying these documents or pictures on your class's website.
4. Use Digital Platforms for Group Work
Research shows that group work is valuable for students because it can improve students' individual achievement and can build their communication and collaborative skills. This is why most teachers incorporate various forms of cooperative learning into their lesson plans. When you start teaching online, however, group work can become trickier than it is in the classroom.
Fortunately, there are digital ways to facilitate group work. For one, depending on the program you use, you may be able to create breakout rooms in a video call where you split up students into smaller video calls where they can discuss an assignment or reading together. You can also use cloud-based technology like Google docs to have students work collaboratively on an assignment.
5. Create Simple Assignments With Clear Instructions
Every teacher knows what it's like to give an assignment and then prepare for the barrage of endless questions to clarify the details. When you're in the classroom, you can clear up confusion quickly, but you may not have this luxury when you're sharing assignments digitally. This makes it especially critical that your written instructions are crystal clear and that you create assignments that are very straightforward.
You need both your students and their parents to be able to understand. Keep in mind that simple doesn't equate to easy. You can create simple assignments that still require students to put in a lot of work and critical thinking.
How to Virtually Connect With Students Over the Summer
Even when you're meeting in-person for school during the school year, you may feel completely disconnected from your students during the summer. If you want to show your students ongoing support during the summer and set them up for success in the fall, here are some fun ways to connect with students online:
1. Send Emails
Sending an email periodically is a good way to check in with parents and students. You might ask students to let you know how their summer vacation is going or share a fun countdown to the start of the school year. As the school year approaches, you can share important information regarding school supplies or any other preparations families need to be aware of.
You can send mass emails to your whole class, but you may also want to personalize your emails and send them to families individually. This will likely feel more personable and encourage parents or students to reach out if they need some support during the summer.
2. Have a Video Call With Students
You can also check in with students and parents through a video call. A good old fashioned phone call can work also, but a video call allows you to capitalize on nonverbal communication. This can be especially important when you're checking on students' wellbeing and want to share a smile with them.
At one time, video calls may have seemed a bit foreign to some, but because of the pandemic, this mode of communication has taken off in popularity. Your students and parents may appreciate getting to see you on their screen, checking in to see how the summer is going.
3. Share Educational Resources
You can help students over the summer by providing some online resources they can use to stay sharp. This can help students combat summer learning loss. Research has shown that students can lose 25% to 30% of their school-year learning over the summer. This means teachers have to invest a lot of time into review when school starts again.
You may be able to help your students hold onto what they've learned over the summer if you share some educational websites or apps that students can use to stay sharp. There are plenty of free resources out there, and for younger students, you can find resources that feel more like games than school.
4. Encourage Students to Journal
Journaling can be a great way to get students writing over the summer. Encourage your students to journal during their summer break, and provide that extra push of motivation by setting some journaling goals. For example, you could offer a reward for any students who write a certain number of journal entries or who fill up a whole notebook.
Though this is something students would be doing independently, you can connect with students virtually to check in and see how they are doing with their journaling. Otherwise, students are likely to get distracted and forget about their journaling goals. You can also include your journaling goals and ideas on your class website.
How to Provide Emotional Support to Students Virtually
Many teachers are learning for the first time how to virtually connect with students. Staying connected in a distance learning context can be a lot more challenging than in a classroom context. The connections that come naturally in the classroom are no longer there, and you need to get creative to help kids feel a sense of security, comfort and fun that can be missing from this new experience of distance learning. It's critical that teachers support their students' emotional wellbeing during this time. Here are some ways to do that:
1. Connect Periodically With Parents
Supporting students emotionally should be a family affair. Of course, every student's home and family situation is different, and in some cases, it may be complicated. Whenever possible, though, involve parents and ask them about how their child is dealing with the changes in their schooling. Most parents will appreciate this gesture.
Checking with parents is important because they can see a side of your students that you don't get to see — especially when your contact with students is limited due to virtual schooling. This is a good way to gain insight that can help you support your students more effectively.
2. Check in With Students Each Morning
Even if your school is implementing a more independently driven curriculum that doesn't have you teaching every day, you may still want to consider meeting with your students briefly each morning via a video call. Morning meetings can provide kids with the structure they need to feel a sense of normalcy and to feel motivated.
This is also a good opportunity to gauge how students are doing emotionally each day. For example, one teacher asked his students to share a selfie with a thumbs up, a neutral sideways thumb or a thumbs down to show how they were feeling. There are lots of creative ways you can have students share some insight into their emotional health.
3. Create Social Times for Students
For some students, the hardest part of transitioning to learning from home may be that they no longer get to experience school with their peers. This can leave a child feeling isolated or, at least, missing their friends. However, there are some creative ways you can help students continue to feel connected to each other virtually.
One way is through facilitating group work, as we discussed above. You can also have social events through a video call. For example, you may have an end-of-the-year pizza party and invite students to eat pizza while they chat on the video call. You can also create more ongoing social interactions. For example, for some age groups, you might consider pairing students together as pen pals.
4. Facilitate Self-Reflection
When kids are struggling emotionally, we need to help them develop the tools to process their emotions. Self-reflection can help a student name the problem they're experiencing and understand their emotions better.
Look for opportunities where you can lead your students in self-reflection. You can make this a regular part of your curriculum by having students answer questions after an assignment about how they felt about the experience or about their overall wellbeing. You can also give writing assignments that encourage self-reflection by asking about students' experiences with learning from home. These assignments serve the added purpose of letting you check on students' emotional wellbeing.
5. Plan Fun Virtual Activities or Spirit Weeks
Fun activities can go a long way toward making virtual schooling feel more comfortable and enjoyable. When students are struggling emotionally, a bright spot in their week may make all the difference. Video calls are great for this. Get creative and come up with some fun things you can do as a class.
Spirit weeks add fun and excitement to school, so why not keep those going, even while you can't meet in person? Invite students to send in pictures or show up to the video call wearing a silly hat, a superhero outfit or some other fun apparel. Just make sure you tell students in advance when spirit week is and what the theme of each day will be, so they can look forward to it.
Help Students Stay on Track With Planners From Success by Design
When everything feels topsy-turvy, students need a way to stay organized and grounded. A student planner can help students stay organized and keep track of all their assignments — a task that is even more critical when students are working more independently. Providing your students with planners or asking families to purchase a planner for their students is a great idea if you want students to cultivate their skills of organization and time management and remember every assignment and special event.
At Success by Design, we offer a variety of student planners at affordable prices to help all students have a successful school year, even if it's a bit out of the ordinary. Contact us online if you have questions about our planners.