How to Use a Planner at Home
How to Use a Planner at Home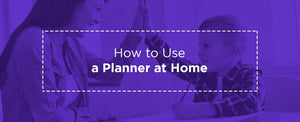 One of the best ways to help your child succeed at school is by helping them plan and stay on track with goals and tasks. 
Parental involvement is essential to student success
, but you may not know where to begin at home. If that's the case, start with your child's planner. It's the tool they use to stay organized and succeed in school, so knowing how to use a planner at home will only enforce those positive traits. Consult the ways to use
student planners
below and help your child stay organized for school at home.
How to Help Your Child Use Their Student Planner at Home
Your child's teacher may have taught them how to use their planner in the classroom, but you'll have to help your child at home. It can be vital for your child to use their planner as much at home as they do at school to stay on top of their assignments and do well. Follow some of these tips to incorporate your child's planner into their at-home homework routine:
1. Check It Against Other Sources
Learning how to use a student planner won't be helpful unless you know for sure your student has noted the right assignments and dates. Many schools offer online resources and calendars that teachers use to post assignment due dates, so use those tools and make sure your child has the right due dates in their planner. Do this together so they can see if they made any mistakes and correct them. Those online resources are also useful if your child is unsure of a due date or missed class or a day of school. They won't have to worry about missing an assignment or having incorrect information even if they miss class. If your school doesn't provide these resources, have your child reach out to a friend or classmate to get accurate information. For younger students, those with organizational difficulties or others in need of some academic help, you may need to check their planner for accuracy more frequently. If you notice that your child has regularly miswritten information, speak with their teacher. Ask if there's a way they can help your child write assignments in their planner at school or send home a printout of upcoming assignments. If you do get a printout from the teacher, help your child transfer that information into their planner and check that it's correct.
2. Write Things Down With Them
When you go over your child's planner together, see if they're writing down assignments in class. Encourage them to do so because it's the first step to using a planner productively. You can also help your child write things down while at home, including:
Assignments on the date they're assigned
The date assignments are due
School events and trips
Personal tasks or chores
Personal and school goals
Personal or family events
Writing assignments on days when they're assigned and due gives your child some perspective on how long they have to complete a task, but don't let them use that as an excuse for procrastinating. Encourage them to work a bit each day at something to chip away at the assignment instead of doing it all the day before it's due.
3. Help Them Check Things Off
Writing down assignments is just the first step of using a planner. For the ultimate organization, students also need to check things off as they complete them. After you study with your child, help them with a project or homework assignment, and be sure they check it off in their planner. Marking off tasks will:
Give your child a sense of accomplishment.
Keep them on track to complete larger tasks.
Ensure they study for all upcoming exams.
Ensure they complete all their homework.
Students of any age will benefit from checking things off in their planners, but it's especially useful for older students in multiple classes. They'll have to keep track of more assignments and tests, so marking off everything they complete ensures they get everything done.
4. Keep Them Accountable
One of the best things about a student planner is its ability to hold students accountable for their assignments — it can help them build beneficial skills and stay on top of tasks. To enforce accountability with your child's planner at home, you can:
Do progress checks: Check in with your child to see how they're doing on assignments. Do they need help studying? Do they need supplies to create a project? Try not to ask them too many questions all day, especially if they're a more responsible student, as that could frustrate them or make them lose motivation. Instead, ask a couple of questions and encourage them to come to you if they need any help and to keep track of everything in their planner.
Communicate: When your child gets home from school, chat about their day if you're there to welcome them. First, talk about their day, then ask about assignments. Do they need help with studying for anything? Do they have anything for you to sign? You can also ask to go over their planner with them to double-check. Talking with your child keeps them accountable, and doing it right when they get home ensures the information is fresh in their minds and they have time to complete tasks before doing something else.
Look in their planner: Go over your child's planner together to encourage them to use it. If they know you'll be looking at their planner with them, your child will be more likely to write in it, which keeps them accountable. If you have an older or responsible student, you don't have to go over the planner every day, but once a week or around busy times of the year is a great start.
5. Keep Them Motivated
Your child may already understand why completing schoolwork and studying is important, and they may use their planners to write down every assignment. But if your child isn't motivated or doesn't know how to use a planner, they may not be eager to complete schoolwork. It's a frustrating scenario, but helping your child use their planner can also help keep them focused and motivated. Some at-home learning tips for parents and ways to get your student motivated include:
Use the planner: If your child isn't using their planner, the first step is to get them to use it. Let them know that keeping track of tasks, homework, exams and more in a planner is an easy way to stay organized. It means they'll have less to struggle to remember, and instead, they'll have a written guide on what to do every day.
Break down tasks: Sometimes, having one large task makes it hard to stay motivated. Break that task down into manageable pieces that your child can understand and easily achieve. It'll give them a sense of progress and get them motivated to complete assignments. For example, if they have to create a poster for a presentation, break it down into research, designing the poster and practicing the presentation. Add those tasks into the planner for clear goals.
Reward them: Some children need rewards to get into a routine. To enforce your child's use of a student planner and motivate them to complete tasks, come up with a reward. Let them have a bit more playtime or stay up a bit later on the weekends. Give younger children stickers when they check off small tasks and a small toy when they accomplish larger goals.
Be sure to balance the rewards you give your child with instilling 
intrinsic motivation
 — this type of motivation encourages children to complete a task or use their planner not for the sake of a reward but for the sake of accomplishing or learning something. Teach your children the value of organization and the risks of procrastination to help instill beneficial motivation.
How You Can Utilize Your Child's Student Planner
Your child's planner isn't just a resource for them — it's a great tool for parents, as well. You need to stay on track as much as your child does, so learn how to use a student planner for yourself to help your child stay organized and succeed with these steps:
1. Bring Your Child's Planner to Teacher Conferences
If you aren't familiar with a planner, bring it to parent-teacher conferences to learn more. Even if you know how your child uses their planner, going over it with their teacher can give you a better understanding. You'll see if your child is using their planner in a productive way and if there's anything you can do to help them know how to use the planner effectively if they aren't already. Bring the planner with you to a conference and have some questions in mind to guide the conversation and learn more. Some questions to ask your child's teacher regarding the student planner include:
Does the teacher have students write the due dates in their planners or only the date something was assigned?
Are there any resources you can use to check the dates and assignments in your child's planner?
How does the teacher recommend using the planner?
Does the teacher conduct any planner checks?
How can you contact the teacher with any questions you have regarding the planner or assignments?
Ask those and other questions to ensure you understand how to use the planner and how to help your child with any questions about using a planner. Your child's teacher may even have more advice on how to use a planner at home.
2. Check for Assignments and Exams
Make sure to go over your child's assignments with them rather than looking at their planner on your own or leaving it all up to your child. You won't know how to help your child stay organized in school if you're using the planner without them or if they're on their own. For younger students or those who need a bit of academic help, set aside some time every day to go over upcoming assignments and exams. Do this before homework and study time to help your child be productive. With some classes, you may notice that the teacher has a pattern with assignments or exams. Ask your student if the teacher has explained this pattern, or look for it yourself and keep track of it in your own planner. For instance, your student may always have a spelling test on Friday or a math test every other week. You can then discover how to use your planner effectively and ask your child if they have upcoming assignments as the regular day approaches.
3. Check for Events and Other Activities
Has your child ever told you last-minute about a classroom party you needed to buy snacks for? Or mentioned a field trip with only a few days' notice? With a planner, you can avoid the last-minute notices and know in advance when your child has a scheduled event or activity. We can all be forgetful sometimes, and when life gets busy, your child may forget to mention an event, field trip or another class activity you need to help them prepare for. If they've written these events down in their planner, you can know their schedule and prepare, but you both need to know and plan for what's to come. Check your child's planner or ask them to go over the upcoming week with you and see if they have events in the near future. You can also double-check their planner if your child mentions an event or trip in passing, confirming the date with what they have written down. You can then transfer those events to your own calendar or planner, so you can both stay organized.
4. Prioritize Your Child's Schoolwork
Knowing how to use a planner with your child will help you work together. When you know what assignments your child has for an evening or weekend, you'll know you need to give them their space to complete their work. Work with your child when you know you have upcoming events that could impact their schedule. Let them know in advance and have them write it in their planners. Remember that your child can be busy with schoolwork no matter their age, and respecting their time and schedule is an essential part of their success.
Shop Student Planners at Success by Design
Practice these at-home learning tips for parents with a planner from Success by Design. A printed planner provides better accessibility and flexibility to help your child stay organized in school and at home — and with customized options, a planner from Success by Design will give your child the tools they need to succeed. Browse our student planners today to equip your child with the tools to stay organized in and out of the classroom. Let us at Success by Design help you and your child plan for success!