Teacher Holiday Tips: Managing Holiday Stress in the Classroom
Teacher Holiday Tips: Managing Holiday Stress in the Classroom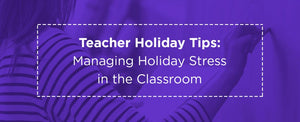 It happens every year. Just as your students get into a routine, the holidays descend. Special assemblies take away from instruction time, an abundance of sugary treats to consume can cause hyperactivity in the classroom, and family trips lead to increased absences. Add in your own family's holiday schedule, and you've got a recipe for one stressed-out teacher! You can't skip the holidays, but you can find ways to manage the stress and strain that can come along with the most wonderful time of the year. By incorporating some simple tips for teachers and holiday stress management, you can help students cope with holiday stress more effectively, and you might even find yourself enjoying the holiday season more too!
Tips for Teaching Before Break
Teachers before Christmas break are a tense group of people. There are still assignments to grade and lessons to teach, plus the pressure to incorporate the "spirit of the season" into it all. So how can you keep yourself on track in the weeks leading up to the holiday break?
1. Stick to a Routine
Yes, the holidays bring a lot of interruptions to your regularly scheduled instructional time, but that doesn't mean you have to completely throw your daily routine out the window. If there's a
party or assembly happening
, incorporate it into the daily routine, but don't let it overtake it. If your students are old enough to read, keep a written reminder of the day or week's schedule posted where they can see it so that they know what their responsibilities are and what's expected of them.
2. Keep Your Students Active
Every teacher knows that students tend to be wild and less focused right before a holiday. Rather than spend the week trying to convince them to sit quietly or take tests, channel that energy into something productive! This is a great time to assign a group project or, if the weather allows, move outside where students can move freely as they engage in the lesson.
3. Look Ahead to the New Year
A lot of people look to the new year for a fresh start. Engage your students in practical activities to wind down the old and ring in the new year. Have them clean desks, organize their lockers or clean up the classroom. If you're really feeling ambitious, extend the clean up to other areas of the school, such as volunteering your class to sort books at the library or clean up trash in outdoor common areas.
4. Stick to the Rules
Holiday extras are a lot of fun, but some students will try to take advantage of the festive time and test your boundaries. Stick to the same rules and behavioral expectations you've established for other times of the year. Remind your students that attending holiday parties is a privilege, not a right, and all of the fun extras that they can engage in at school still depends on good behavior.
5. Fake It 'Til You Make It
There's no one who needs a break more than a teacher. In fact, you've probably been counting down the days until winter break more than your students. But don't let them know that! Avoid posting "Winter Break Countdowns" in your classroom or expressing how much you need a vacation. Maintain a business-as-usual attitude and your students will be more likely to follow your lead.
Last Day Before Winter Break Activities
It's the day before Winter Break. Your students are eagerly anticipating the final bell, that moment when they can head home and forget where their backpack is. So how can you channel that energy until the bell rings?
1. Clean Up
Have your students help you clean up the classroom. Wipe down desks, take out the trash, put away books and papers that have been stacked in a corner. This is a great way to get everyone up and moving, plus it means you'll walk into an organized space when the break is over!
2. Go Outside
If the weather allows, head outside for a walk or a class activity. If you can't find a way to incorporate it into the curriculum, simply have your students take their work outside to complete.
3. Plan a Party
If you teach elementary students, recruit a group of parents to plan a simple classroom celebration for your students, following school guidelines for parties and food in the classroom. If your students are older, consider having them plan their own class party. They can sign up to bring food, decide on fun activities and bring in a few decorations to make things more festive.
How to Manage Holiday Stress
Even with these great tips for classroom management, you'll inevitably encounter holiday stress. So how can you manage that stress and still keep control of your classroom? Try a few simple teacher tips for holiday stress.
1. Keep It Simple
Whatever you do to acknowledge the holidays — classroom decorations, parties or extra activities — don't go overboard planning something elaborate. Your kids don't need a classroom that could double for a scene out of White Christmas. Your students aren't looking for a party that looks like it was planned by Martha Stewart. It's okay to enjoy the holidays and celebrate with your students, but they don't need you to do it all.
2. Take Care of Yourself
It's easy to say, but hard to do. Why? Because it's hard to slow down in the middle of such a busy time. And this also looks different for everyone. Maybe you need to spend a few minutes outside each day. You might need to resort to takeout dinners for a few days. Or perhaps you need to incorporate yoga or meditation into your daily routine. The point is to find one — or several — ways to keep yourself feeling strong and grounded so you can take care of your students.
3. Resist the Urge to Pile on the Work
It may be tempting to load up on extra assignments and important tests before your students leave school for two weeks, but resist the urge to do this. Whatever you assign, you'll need to grade. And the last thing you need during the holidays is to spend your entire break grading papers. Plan pre-break assignments that are simple to grade or enlist your students to help by exchanging quizzes and grading them together during class.
4. Put Your Own Family First
Although the pressure may be mounting at work, don't forget your own family's traditions and obligations during this time. Keeping things simple at school frees you up to enjoy decorating the Christmas tree with your own children, attending your spouse's office party or sitting in front of the fire wrapping gifts.
5. Stay Organized
This one will help your students — which helps you! When you encourage your students to use a planner, like one of Success By Designs' 
custom student planners
, they can keep track of assignments, holiday events and all the things they need to remember. When your students are organized, they won't be as wild or stressed — which means less stress for you, too.
Importance of Relaxing Over Break
Navigating the days leading up to winter break is important, but so is making sure you take the time to enjoy your time away from the classroom. You might be tempted to use the time to grade papers and plan for the post-holiday return to school, but try not to work during your break. Taking time to be alone and also to enjoy your loved ones is a great way to recharge your own batteries and gear up for the rest of the school year. Not sure how to relax during winter break? Try one of these tips:
1. Read a Book
No, we're not talking about the latest issue of the American Educational Research Journal. We're talking an actual book, such as a novel, poetry or biography. Besides giving your mind a break from thinking about your students, reading is restful. It gives you a reason to sit still and focus on just one thing. And, depending on what you're reading, it can also expand your horizons and teach you something you didn't know!
2. Don't Work the Whole Time
Make an early New Year's resolution — resolve to spend at least one week of your break without touching anything in your school bag. Don't grade papers, don't check your email, don't plan a lesson. Focus on yourself and time with your family. We all know teachers will grade something during the break! But rest first.
3. Don't Overschedule Activities
It's tempting to schedule a slew of lunch dates with friends, family get-togethers and all the doctors' appointments you don't have time for during the school day. But be careful! Before you know it, you'll be just as busy as you are when school is in session, and you'll be anxious to get back to school just to get a break.
After Winter Break Classroom Activities
It's back to the daily grind for teachers and students alike. Although it may be tempting to dive straight into a new unit, hold back — your students aren't necessarily feeling all the same "go get 'em" vibes. In fact, odds are that most of your students are heading back to school after nearly two weeks of late nights, sugar highs and lots of time with their friends and family. Most likely they're physically and mentally tired — and that can complicate their ability to dive right back into academics. So how can you ease your students — and yourself — back into school after the break?
1. Schedule Sharing Time Into Your Day
Ski trips, visits from Santa, new movies at the theater — most students will do at least one exciting thing during their break, and they'll be anxious to tell everyone about it when school starts. Instead of fussing at them for talking instead of working, plan some time for your students to share about their break with their peers. For example, you could set aside 20 minutes for each student to go around the room and answer the prompt, "My favorite thing about winter break was _______."
2. Journal About Vacation
If you're reluctant to schedule a time just to talk, then use the prompt as a journal topic or have students draw what they experienced. You can use their essays or pictures to create a bulletin board or other classroom decor.
3. Take Down Holiday Decor
Have everyone pitch in to take down the leftover holiday decor. This activity serves three purposes. It gives students something productive to do, as well as a chance to interact while they do it and — bonus! — it means you don't have to find the time to do it during planning or over your own winter break!
4. New Year's Resolutions
Kick off the first day back with New Year's Resolutions. Challenge students to come up with two goals for the new year — a personal goal and an academic goal. When they're done, have them illustrate their resolutions and hang them up in the classroom for motivation throughout the coming weeks.
Tips for Teaching After Break
The holidays are over. It's time to get back to your daily classroom routine. You've had a break from your students, some quality family time and now you're ready to get back to work. As a teacher, it's natural to want to hit the ground running on that first day back after a break. But hit the pause button. For most students, the first day back after winter break can feel like the first day of the school year all over again. Keeping that in mind, it's a good idea to:
1. Keep Your Schedule Light
Don't try to introduce new concepts or have students complete complex worksheets. Instead, have them journal about their holiday or read aloud to them. For younger students, try letting them engage with any morning tubs or activities you have, such as play dough, pattern blocks or unifix cubes. It's also a good idea to plan more time than you would normally devote to these types of activities. If your students are tired, they may be moving slowly, and it could take them longer than usual to complete certain tasks. If you teach middle or high school students, plan basic review activities that will help get them back into the habit of school work and remind them where they left off before the break. Just like their younger peers, older students will also be tired, so don't overdo it. Give them more time than usual to complete an assignment or plan to spend time working with students in small groups or even one-on-one to help them get their brains back into action. Your goal is to remind them of where they left off, not stress them out.
2. Be Prepared for Emotions
Younger students may experience some hesitation or sadness at leaving their mom or dad after two whole weeks by their side. Be prepared for some tears or anger to surface as they process these emotions throughout the day. Maintain behavioral expectations, but also extend a little extra compassion to those who are struggling to get back into the routine of school.
3. Review Schedules and Expectations
Think about the first day back from winter break as you would the first day of school. Don't assume that your students all remember what you expect and how the day should go, especially if you have younger students. Take time to remind them about classroom rules and expectations. Review or update seating assignments, classroom responsibilities and any other "housekeeping" items your students might have conveniently forgotten during their time away.
Staying Organized With Success By Design
When it comes to surviving the weeks surrounding winter break, the best thing a teacher can do is keep themselves and their students on track. One of the best ways to keep a classroom on track is through the use of planners. Studies have shown that students who write things down can remember them better — and that's the kind of thinking you need during the holiday season!
It's never too late to get organized. Check out our wide selection of planners and accessories online today!