School Christmas Party Ideas
School Christmas Party Ideas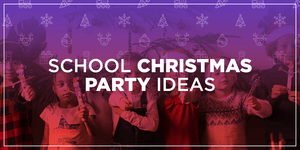 Whether you're an eager room parent or a reluctant last-minute volunteer, planning your child's school Christmas party should be about one thing — helping your child and their classmates celebrate the season together. Most parents start out with this intention, but can quickly become overwhelmed by all of the details involved. Don't worry! Party planning doesn't have to be stressful. In fact, with a little organization and these school party ideas for Christmas, you may even discover that planning school parties can be fun.
Get Organized
Before you jump into planning, take a step back and ask a few questions:
What day and time will the party be held?
Where will the party be held and how much space is available there?
Are other parents willing to help?
Once you've answered those three questions, it's time to start planning the fun stuff.
School Christmas Party Theme Ideas
Choosing a theme first will make the rest of your job easier because you can plan food, games and decorations based on the theme you pick. The sky is the limit when it comes to themes, but if you're short on ideas for classroom parties, consider these 10 favorites:
1. A Christmas Carol No, Ebeneezer Scrooge and Tiny Tim don't need to make an appearance, but everyone loves the chance to sing their holiday favorites. Plan decorations that are visual representations of popular holiday songs, and, as long as the school okays it first, plan a short time for students to go caroling door-to-door to other classes nearby. If you can't make it to other classrooms, have the students take turns requesting their favorites and singing together in their classroom. Bonus points if you find another parent to accompany the sing-along on a keyboard or guitar.
2. Gingerbread Home for Christmas Keep those little hands busy with a gingerbread house contest. Provide them with all the pieces they need to make a prize-winning house and recruit a couple of parents or administrators to be judges. The judges can offer prizes for a variety of things, including "Best Use of Candy Canes," "Tallest House," and "Most Likely to Be Eaten." This keeps the kids busy, and it can take the pressure off of coming up with Christmas classroom games or activities to fill the time.
3. Reindeer Games This is a great idea if you live in a warmer climate since it's best done outside, although classes in colder climates may be able to make use of the gymnasium. Plan a "Backyard Dash(er)" race, a "Prancin' and Dancin' Contest" and a "Reindeer Relay." You can set up food and drinks nearby or have it waiting inside after the kids have finished the races. The best part about this one? No need to plan elaborate decorations since you'll spend most of your time outside.
4. Ugly Sweater Party Everyone loves a good ugly sweater party, even kids. Invite them to wear their best and brightest holiday outfits. Ugly sweaters, reindeer headbands and jingle bell necklaces are just a few of the items that can make an appearance. Make sure to have a someone on hand to document everyone's attire. While this theme can be a hit, be sensitive to the fact that some families don't have the resources to purchase holiday apparel or accessories for their child to participate. If you opt for this theme, make sure to have some extra items on hand at the party so that all students can participate.
5. Christmas Cookie Crew Everyone loves Christmas cookies, so consider using cookies as your party theme. The sky's the limit when it comes to decorations — any traditional decorations will fit this theme — and you can bring in sugar cookies or gingerbread cookies for kids to decorate and take home.
6. Storybook Christmas Children love to dress up, so encourage their creativity by asking them to come dressed as their favorite book character. Bonus points if they pick a character from a holiday-themed book. You can plan a costume contest, with other parents as the judges, and, if your students and their families have the resources, ask them to bring in the book they've chosen to emulate and donate it to the school library or a charity.
7. An International Christmas Children are fascinated by learning about different cultures, so why not incorporate that into their school Christmas party? Ask each child to bring a food item or decoration that is from another country. This can be especially meaningful if you live in an area with a diverse mixture of cultures. Children can learn more about each other's family traditions while celebrating the season together.
8. Dreamin' of a White Christmas Opt for a snow-themed celebration by decorating with snowflakes, fake snow, and as much white as you can. You can even consider carrying over the "white" theme into your menu and party games too.
9. Holly Jolly Hoedown Who says a holiday party has to feature Christmas music? Get the kids laughing and dancing with a barnyard-style bash, complete with rustic-looking Christmas decorations and overalls. If you're feeling fancy, find a parent or other local volunteer who can teach the students a line dance or two.
10. A Hawaiian Christmas It may be cold outside, but you can warm things up in the classroom with a good ole fashioned luau. Pineapples, coconuts and festive leis are a great way to brighten up a holiday party and break out of the traditional decor and food ideas. Music from the islands and a limbo contest are sure to make this party one to remember.
School Christmas Classroom Games
The amount of time you have for a party will vary between schools. Some dedicate a big chunk of time to holiday festivities, while others simply squeeze in a short fete in the last hour before winter break begins. Before you plan any activities, make sure you know how much time you have. You can avoid spending hours preparing an elaborate list of activities if you find out in advance that you only have 10 minutes. Some themes almost come with built-in Christmas activities for school parties, but if you're still stuck for ideas, here are some of our favorites:
1. Name that Tune Divide the students into groups — limiting each group to five — and then queue up a selection of popular Christmas songs. Play a clip of each, and award a point to the first team to call out the correct title. The team with the most points wins.
2. Pin the Heart on the Grinch A holiday spin on a kids' party game staple, you'll need a blindfold, enough paper hearts for each student to have one, and, if you're particularly artistic, you can sketch out a large paper Grinch. For the parents who aren't so artistic, you can simply download and print a free one. Have the students line up. Each one takes a turn being blindfolded and trying to stick the heart on the Grinch's chest. The one who gets the closest wins.
3. Candy Cane Hunt Yes, this one is as simple as it sounds. Just like a traditional Easter Egg Hunt, you hide candy canes all over the classroom and then let the students find them. All you need is a whole lot of candy canes and small bags for the kids to stash their loot. Make sure to coordinate this one with the teacher so that you can get into the classroom while the students aren't there. Or, get permission from the school's administration to do a Candy Cane Hunt in another area of the school where you can set up ahead of time.
4. Candy Cane Playdough If you're looking for an activity that's a little less organized, try Candy Cane Playdough. This will require a little bit of advance effort on your part, but kids will love creating shapes and figures with the red and white playdough that even smells like peppermint, thanks to a dash of peppermint essential oil. If you want this activity to sparkle, add some glitter into the playdough as well.
5. Snow Throw For the Snow Throw, you'll need two to four buckets and the same amount of bags of large marshmallows. One student stands at one end of the classroom — or hallway if you're able to spread out — and classmates line up opposite of them to try and throw marshmallows into the bucket. This works best if you divide the class up into three or four teams who can race each other to see who can get the most of their marshmallows into their bucket first. One word of advice — decide in advance what you will do for the students who "win" the games you plan. Is the prize simply bragging rights among their peers? Or, will you be handing out small prizes along the way? If you opt to hand out prizes, always bring more than you think you'll need. There's nothing worse than realizing two students have ended a game in a tie, and you only have one prize left.
Class Christmas Party Food
It can be tempting to plan an elaborate menu for your student's holiday party, but when it comes to selecting food, there are three things to remember:
Some schools have restrictions on what food can be brought into the school. While some schools welcome homemade treats from parents, others won't allow anything that doesn't arrive in the original store packaging. Know what your school rules are regarding party food and make sure you follow them.
Also, check with your student's teacher. Some schools are not strict, but there may be a child in your class who has an aversion or allergy that could cause problems if you don't plan for it ahead of time.
Don't worry about getting creative. Yes, reindeer pretzel rods are fun, but the students will be just as happy to have those same pretzels in a bowl without any decorations. Planning a menu of simple, child-friendly foods will be just as welcome — possibly more so — than any elaborate menu you can dream up.
That being said, it is fun to incorporate some festive treats into your school party menu. Consider these old and new favorites for your next party menu:
1. Santa Hat Cupcakes These Santa Hat Cupcakes are cute and easy — a double win! Bake chocolate or vanilla cupcakes according to your recipe or box mix of choice. Once they are baked and completely cool, swirl a red tower of icing on the top of the cupcake. Make sure to start wide and then narrow it as you go up. The very top should come to a point, just like a Santa hat. Once the red is in place, use mini-marshmallows to circle the base of the hat. Stick one small marshmallow on top for the pompom.
2. Christmas Tree Brownies Cookies get all the attention at Christmas time, so change it up a bit with a Christmas Tree Brownie. Simply bake a brownie mix according to the directions on the box. Once the brownies have cooled, cut them into triangle shapes — instead of the traditional squares or rectangles. Use green frosting and holiday sprinkles to decorate these trees.
3. Candy Cane Reindeer These classic treats are a staple of school parties everywhere, but somehow kids never seem to get tired of them. For this "snack," all you'll need are full-sized candy canes, pipe cleaners, googly eyes and pompoms. These supplies are available at dollar stores or craft stores everywhere, so no need to spend a lot of time or money looking for them. Check out these step-by-step instructions for assembling these loveable reindeer treats!
4. Snowman String Cheese Everyone loves sweet treats at parties, but you'll definitely want one or two things on your party menu that go easy on the sugar. Snowman string cheese gives you a break from sugary treats while still adding a festive pop to your holiday spread. For these treats, you'll need one string cheese per student, an orange permanent marker, a black permanent marker, black cardstock and blue ribbon.
5. Snowman Bagels Let the kids get in on the food prep with these adorable Snowman Bagel Bites. Spread plain cream cheese over half a bagel — full-sized or mini bagels work for this — and then the kids "decorate" the snowman with foods like blueberries, pretzels, raisins, dried cranberries, carrots and more.
6. Grinch Kabobs It might sound complicated, but it couldn't be more simple. For a festive way to serve fruit, add Grinch Kabobs to your menu today. To make these, you'll need toothpicks, bananas, strawberries and green grapes. There's no cooking involved. Just a little bit of assembly. Grab the step-by-step instructions here.
7. Melted Snow Think there's no way to make water festive? Think again. Simply peel the labels off of individual water bottles and replace with homemade labels that read "Melted Snow" or "Melted Snowman Water." Kids will love it, and there's absolutely no cooking involved.
Always Plan Ahead
Whether you're planning a holiday party or teaching your students to be more organized, using a planner can go a long way in helping you meet your goals. At Success By Design, our goal is to work alongside students, educators and parents in their common purpose of providing — and receiving excellent education.
Success By Design was created by a former educator 30 years ago, and we continue to pride ourselves in providing a variety of planners and tools to enhance the learning process for students and educators alike. Even in today's highly digital world, science still shows that using a printed planner can help with brain development and accessibility to information and assignments. By using tools like our spiral-bound planner, your student will be set up for greater success. To learn more or order a planner for your students, explore our inventory today.