Distance Learning Tips for Parents and Teachers
Distance Learning Tips for Parents and Teachers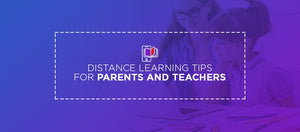 Shifting technology rapidly enables changes in learning and the way we interact, including in schools. By developing organizational and technological skills in younger generations now, you're providing them with the tools to thrive later in life. Still, even the most tech-savvy students can struggle with transitioning to online school. As influential role models in students' lives, parents and teachers have the responsibility to help guide their students through the obstacles that naturally come with a new style of learning.
How Can Distance Learning Be Effective?
The most constructive way for distance learning to be effective is for parents and teachers to form a dependable communication channel. Both role models see the student in two different environments — home and school. At school, students learn how to communicate with their peers in a respectful manner. Early in education, children learn the basics of emotional intelligence. If they're upset that a classmate didn't share the crayons, they learn to take control of their emotions and the situation, getting their own crayons instead of projecting their anger. At home, children interact with their family members, learning confidence and other important interpersonal skills. Without students physically in the classroom, some responsibility shifts from teachers to parents or guardians to fill that educational gap. By forming a communication channel, parents don't have to "wing it," and teachers won't have to develop uninformed lesson plans.
Parent Tips for Distance Learning
Distance learning will look different for every student. Some require more attention, while others thrive on independence. Although there is no cookie-cutter approach, consider this list of remote learning advice for parents who are helping their students transition to online learning:
1. Establish a Routine
Create a daily routine based on your student's needs. Expect this routine to change over time, especially as you become more familiar with the flow of online learning. Have your child wake up and get ready for the school day at a reasonable time. You may need to prepare yourself to help them fight the temptation of sleeping in. If the student is younger, begin the day with a check-in, asking questions like:
What subjects are you excited about learning today?
How will you spend your breaks?
Is there anything I can do to help you?
By doing this, you're helping your student plan their day and prioritize their learning. Older students may prefer independence, but they will usually welcome gentle guidance.
End your day with a normal nighttime routine. Avoid letting your student stay up too late, as it may affect the next day's routine. For younger students, consider ending the day by asking similar check-in questions:
What was your favorite thing you learned about today?
Was anything difficult for you?
How can we make tomorrow even better?
You can adjust your plan of action based on their answers and your personal observations. During the day, keep a notebook or planner with you to jot down these observations for later reference.
2. Provide Support and Encouragement
It's helpful to understand your role in distance learning as a parent. You aren't expected to develop and deliver lesson plans — that's what the teacher on the other side of the screen is doing. Resist the urge to do too much, and take part in your student's learning by being a cheerleader to support and encourage their growth.
Offer emotional support, too. Being away from their friends and teachers can dampen your child's excitement for school, and you can help bring that excitement back to life. If face-to-face meetups aren't an option, allow your child to maintain connections through video chats and social media, but be sure to practice internet safety.
Stay alert for any frustration or unkindness your student exhibits, and remind them to be polite and positive in their interactions. Staying supportive and offering your guidance in these little ways can go far in their personal and educational growth.
3. Dedicate a Space for Learning
Set up an area in your home designated for school activities. Your child may feel a gravitational pull to tune into school from their bed, but avoid this as best you can. Having a dedicated workspace especially helps younger students recognize when it's school time and when it's playtime, making it easier for them to stay focused throughout their lessons.
A good space for learning has:
Limited distractions: As a parent, you're familiar with the sometimes limited attention span of a young child. Set up their work area in a room away from TVs, toys and loud noises to make it easier for them to focus. For older students, limit their exposure to cell phones or social media that can be equally distracting. Consider separating siblings into different workrooms if needed to minimize distractions.
Proper supplies: Of course, you'll need a computer or tablet when connecting to the online classroom. Other supplies may vary depending on your student's level of education, so communicate with your child's teacher for more information on the necessary supplies.
Good internet connection: Find a room in your house with a strong internet connection for smooth distance learning. Your child and their teacher will both appreciate it.
Appealing planners: No matter how old, you should get your child in the habit of planning their school and respective activities, preparing them with the necessary tools and skills for adulthood. If your child is younger, purchase a kid-friendly planner and incorporate planning into their daily routine. If the student is older, allow them to choose a planner that appeals to their taste, and encourage their independence to track their own to-dos and social events.
If you're having a hard time finding a proper workspace in your home, consider buying a portable coffee table or lap desk to designate as your student's distance classroom.
4. Incorporate a Digital Recess
Working for long hours at a time is difficult for anyone. Build some time into your student's daily routine to unplug from technology and recharge their learning stamina.
For younger kids, prepare a fun activity like coloring, finger painting or cooking a yummy treat. Before they reenter the online classroom, give them a book to slowly reactivate their mind. Older students require less guidance. Allow them to practice a hobby, like painting, reading, creative writing or anything else that lets them take a quiet step back.
5. Get Physically Active
A long school day full of hard work may leave your child feeling a little stressed. You might be able to relate to that feeling, especially if you have to restructure your day for your student's online learning. Break out your planner and schedule exciting activities for you and your young scholar to look forward to.
Some family-friendly outdoor activities you can schedule include:
Backyard mini golf
Cornhole
Lawn bowling
Giant matching game
Lawn Twister
Games are a great way to end the school day and engage younger students in play-based learning. Get your bodies moving and minds working while having fun! For days when the weather isn't favorable, keep the fun inside with a family game night.
6. Ask for Help
You might require support when transitioning your child to distance learning. Remember that you're not doing it alone. Teachers, administrators and school counselors have the tools to help you and your student.
Distance learning can feel like a balancing act of maintaining your daily schedule, promoting your child's education and getting your personal work done. When presented with these obstacles, reach out to your child's teacher or other parents through email or phone, or use the school's learning management system (LMS) for help.
Distance Education Strategies and Tools for Teachers
In-class learning and online classrooms both have their advantages and disadvantages. Replicating the intricacies of face-to-face learning as a teacher transitioning to online learning can be challenging. To take advantage of online education's unique possibilities, consider these distance learning tips for teachers and administrators:
1. Follow a Schedule
Having a planner can be your saving grace. Balancing your personal life, online classrooms and meetings while trying to remember students' individual needs can create a traffic jam of information. Take time to sit down and organize a schedule. Some things to include in your planner are:
Class lists
Lesson plans
Faculty, student and parent meetings
Due dates
Moments of inspiration
Growth experiences
Parent contact information
Birthdays
Breaks
Distance education is a learning experience for you, too. Block time in your schedule to self reflect and consider what you've learned and how you can implement that new information in tomorrow's schedule. Assign a day of the week for independent, low-stress learning to give your students self-reflection time. Many people find 
paper planners more favorable
 than electronic calendars. Opening your laptop, tablet or cellphone to access your planner opens the door for other distractions, like social media or emails that can wait until later in the day.
2. Set Clear Expectations
When 
creating lesson plans
, put yourself in your student's shoes. What will they need to know and do to complete and benefit from this lesson successfully? In an in-person environment, your students can easily raise their hands to ask you a question. Online, that may not be an option. Prepare for questions and try to be accessible for when students ask them. Write lesson instructions clearly. It may be helpful to direct your students to the appropriate online resources and post examples of a successfully completed project. Have a discussion board available for open conversation on assignments, encouraging your students to self-motivate and find the answers to their questions before defaulting to asking you. Most importantly, set clear, realistic expectations of how your students and their parents should interact with the online classroom. How often should they check-in? Where can they reach you? What technology and supplies do they need at their home? Be aware that they might be working with other teachers who structure their classrooms differently than you, so welcome these questions and give clear answers.
3. Use Online Resources
Prioritize making learning accessible. Not every student has equal access to technology or high-speed internet, and some may have to share technology with parents and siblings. It can be helpful to offer various types of content for your students to engage in. Tailor your lesson plans to your class, and give them the freedom to guide and choose their assignments. When brainstorming lessons, consider this list of distance learning tools for teachers:
Google Classroom: This paperless office suite offers educational features for grades K-12 where you can share files directly with your students using integrated tools like Google Slides, Google Sheets and Google Docs. It's free and easy to use. Create an online classroom and invite your students using a private code where you can attach and submit assignments, give feedback and distribute assessments.
Pear Deck: Available as an add-on for Google Classroom, Pear Deck is an educational resource that allows students to interact directly with your slide presentations. They can draw directly on the slides, make their own notes and answer multiple-choice questions, among other features. Basic is free for everyone, and Premium is free for teachers and schools.
Blackboard: As a leader in college-based learning, this resource is constantly evolving to meet the growing needs of K-12 distant schooling. This LMS bridges the gap between students, parents and teachers through a safe communication channel. Blackboard requires a quote for an ongoing account, but they offer a free 30-day trial for you to evaluate if the platform suits your needs.
Khan Academy: Another widely used e-learning resource, this platform offers free courses covering almost every education level and topic. You can set up classrooms to assign specific courses and personalized learning objectives directly to your students.
Edpuzzle: Make video lessons and upload instructional courses from YouTube, Khan Academy and other websites for your students to interact with. Add comprehension questions and commentary to personalize the content to your students. See which students viewed the video and their interaction rate, noting any students who need a little more help to tailor lessons to them in the future.
Stay mindful of students with disabilities who require more attention and direction. Familiarize yourself with their specific needs through open communication with their parents or guardians.
4. Check in With Parents and Students
Distance learning is dependent on communication between teachers, parents and students. Teachers and parents specifically are the bridge between school and home life. Give parents confidence with frequent check-ins, sharing information like:
Progress their child has made
Growth opportunities
Solutions to technical issues
Developments in learning programs
Stay empathetic to their role in the student's educational and personal growth. Odds are, they're going to have a lot of questions, and you're one of their biggest resources on advice for distance learning. If you can't answer a specific question, direct them to a school counselor or administrator that can.
Check-in with your students
 as well. Learn from their experiences and direct them towards improvements, encouraging a growth mindset that will take them far in life.
5. Have Professional Development Days
Schedule check-ins with your co-workers and administrators. Bring your planner to these online meetings and share any discoveries or learning experiences you've made throughout the week or month. Listen to other teachers' discoveries, and add those notes to reflect on during your next self-reflection break. For administrators, take this time to keep your educational team knowledgeable on new technology. Track progress and offer support for teachers that need a helping hand.
Enable Distance Learning Success With Planners From Success by Design
Our goal at Success by Design is to assist teachers and students in developing valuable skills through the use of planners. No age is too young to start structuring your mind toward productivity, growth and an overall feeling of accomplishment. We've strategically developed planners for students of all ages to help them know what needs to be done and when it needs to be done. We're committed to helping your child or student grow. Browse our student planners today and contact our dedicated customer service representatives or educational consultants with any questions.