Tips to Kick off the New School Year
Tips to Kick off the New School Year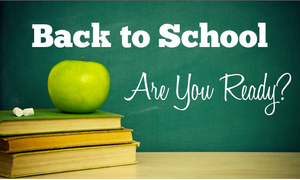 Summer is ending and you are getting your classroom ready for a new group of students. Starting the new school year is an exciting and stressful time for teachers. As you prepare for the new school year, you have a chance for a positive start that will motive students and get you, your students and their parents working together. We have put together some tips to kick off the new school year in a positive way.
Tips to Kick off the New School Year
Send a Postcard: Kids love getting things in the mail. A week or two before the school year begins, mail a postcard to all students telling them how excited you for the school year.  It's also a great way for us to include a few quick reminders about upcoming dates.
Plan Daily Interactions:  Make a point to personally interact with every child. Some teachers like to greet students at the door when the day begins; others say "goodbye" to each one as he/she leaves. When you make a point to speak to each student individually every day, you send a message to them that you care about them.
Build Excitement: Tell the students about all the fun things they will be learning throughout the year, whether it is a unit on an interesting topic they will be studying or special field trips they will get to take this school year. Your students will be interested when they see how excited you are about the year.
Be Available: Show your students that they are your priority. Keep your doors open after the bell rings at the end of the day. Make yourself available online for part of the evening. Eat lunch with the students occasionally; get to know them outside the classroom a bit.
Utilize Planners: Set your students up for success from day one with a planner from Success By Design. Require students to write down all the important dates and events in their planners (prom, homecoming, major games, exams, holiday breaks).Teach them to write down their assignment due dates. Familiarize them with the contents of their planners - give them a quiz on the content and allow them to use the planners to look up their answers. Show them the hall pass and parent signature boxes.
With our tips, you can make this the best school year ever! For more information about our planners and other products, visit our website today. We would love to be your partner this year as you empower students to be successful!