Back to School Shopping Tips for Educators
Back to School Shopping Tips for Educators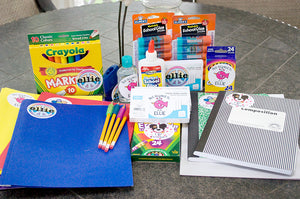 It is common knowledge that educators spend money out of their pocket on classroom supplies in order to provide their students with the best. We understand that funds can get tight when trying to get your classroom ready for the new school year. Back to school shopping does not have to break the budget.
Check out these 7 tips to save you some cash.
1. Get Creative: Get crafty and look for items that can be repurposed. Check online resources like Pinterest for a treasure trove of ideas.
2. Don't Buy Everything at Once: As tempting as it may be to buy everything at once and be done with the back to school shopping, you often times can get better discounts on various items by waiting. You may find that some items you thought you needed are not necessary and in turn free up funds for other purchases.
3. Shop the Sales: Check all the flyers to make sure you are getting the best deal on the supplies you need. For the months of July and August watch the back to school sales. These will be the lowest prices of the year on school supplies-like crayons, glue, notebooks, pens, and pencils.
4. Utilize Reward Programs and Teacher Discounts: Many stores offer reward programs and you can save a percentage by joining and will earn rewards the more you spend. There are quite a few businesses that offer an educator's discount. By showing off that school I.D. a little more you could be earning discounts on books, clothes, storage containers, lunch or even a new car. Check out Brad's Deals for a complete list of businesses that offer teacher discounts.
5. Set a budget: A budget is really important so you don't overspend on back to school. It is important to set a budget that is reasonable for the items you need, but also reasonable for your current finances.
6. Buy in Bulk: You'll always save in the long run by buying in bulk. If you and your fellow teachers split your finds, you can end up saving a lot more. It is a smart idea to team up and buy with teachers of the same grade-level, sharing supplies could also help with coordinating lessons and class projects
7. Take Advantage of Success By Design's Coupon Code: At Success By Design, we know how hard educators work to give their students the best classroom experience possible, and we want to help! We are offering 10% off our entire online store with the coupon code ONLINE10. But hurry, this offer is only good through August 19th, 2017! We hope these tips and will help you save some cash as you embark on your back-to-school shopping spree. Here's to a great school year!