STEM Education Resources
STEM Education Resources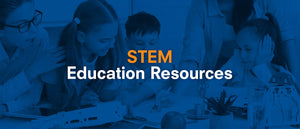 The combination of science, technology, engineering and mathematics (STEM) in education can help students learn while encouraging interest in the STEM fields. STEM education takes a blended approach to intrigue learners while also educating students on how these subjects work hand-in-hand in the real world. Rather than teach these four subjects separately, STEM educators take an interdisciplinary and applied approach.
A unique aspect of this interdisciplinary approach is that it provides instruction and education for real-world applications instead of being solely academic. Educators looking for STEM resources can find various teaching tools online to help make their lessons a success. Here's a look at 20 resources you can explore for teaching STEM.


Benefits of STEM Education
STEM education provides numerous benefits and prepares students for fulfilling careers in STEM-related fields. Fostering a desire to learn and an interest in STEM fields for children of all ages can be an enriching experience and bring more diversity to these fields. Ultimately, STEM education can be a beneficial aspect of a student's curriculum if they want to pursue a career in a STEM-related field.
Most careers require some elements of STEM topics, even if it's just having a basic knowledge of mathematics. STEM education can improve students' understanding of these fundamental principles and how they merge with other subjects. On the other hand, even if a student doesn't want to enter a specific STEM-related field, STEM education can provide various benefits and help prepare students for academic and career goals.
Some of the most common STEM benefits include:
Fosters a desire to learn: 

One of the most important aspects of STEM education is that it can ignite a student's interest and willingness to learn. With unique STEM resources, educators can create engaging and exciting lesson plans.

Encourages creativity: 

STEM education provides a constructive learning format that encourages experimentation and creativity while learning. Students can learn how to solve problems in different ways and understand how unique elements of STEM topics are often related.

Promotes technological literacy: 

Improving technological literacy is an important aspect for any student, as many modern jobs require a basic level of technical capabilities. STEM education can help prepare students to be more comfortable working directly with current and future technology.

Stimulates Collaboration: 

While STEM education does value independent learning, it also promotes collaborative learning. Students learn from and alongside peers and work together to solve problems and understand core concepts.

Teaches adaptation: 

Adaptation is an essential aspect of learning and can help students prepare for various scenarios. STEM educators can help teach students how to overcome potential problems, adapt to a situation and implement a solution.

Promotes knowledge application:

 STEM education allows students to continue learning and applying their skills and knowledge to various tasks and applications.


20 Resources for STEM Education
STEM resources for teachers and students can facilitate learning and help create an engaging, immersive environment that promotes ongoing growth. There's a wide variety of STEM resources, spanning different grade levels, formats and topics, to help you help your students. When creating a lesson plan or integrating a new activity into your curriculum, you may want to consider these 20 STEM education resources.
1. EverFI
EverFI is an excellent website for state-of-the-art educational resources free of cost for students from kindergarten to grade 12. EverFI features a diverse resource library, spanning many important topics, including social-emotional learning, college and career readiness, financial education, health and wellness and much more.
2. Understanding Science
Understanding Science is a STEM resource from the University of California at Berkley that helps students understand how science really works by explaining scientific processes. This resource helps build foundational knowledge on how science works for primary, middle, high school and even undergraduate students. Browse the resource library for tutorials, articles and interactive features.
3. Rubistar
Rubistar allows educators to create rubrics for project-based learning experiences and activities. Choose from customizable rubrics for activities relating to math, science and other core subjects. Rubistar allows registered users to save and edit rubrics with access available online, at home and even while on the road.
4. Share My Lesson
Share My Lesson is an award-winning professional development community that the American Federation of Teachers created. This online resource provides in-depth teaching resources and best practices at no cost for educators. Share My Lesson offers resources for educators teaching students as young as pre-K up to high school.
5. NASA Educators
NASA Educators provides STEM resources for teachers looking to implement innovative teaching materials into their curriculum. Search for resources, tools, features sites and more by grade level and topic. NASA Educators can help teachers find exciting and informative resources to create an engaging lesson for students and drive a desire to learn.
6. NASA SCI Files
The NASA SCI Files is an Emmy-award-winning series of programs designed for elementary students that integrate technology, mathematics and science. These programs emphasize standards-based instruction, research, scientific inquiry and problem-based learning. Educator guides help to supplement these programs.
7. Nancy Clark's Awesome Science Teacher Resources
Nancy Clark is an experienced educator with over 35 years of experience. Nancy Clark's Awesome Science Teacher Resources are an excellent tool for middle school and high school science teachers looking to create an engaging learning atmosphere. Choose from unique worksheets, tests, activities and laboratory exercises to include in your lessons.
8. PBS Learning Media
PBS Learning Media has various free sources educators can search for by resource type, grade level and subject. Math- and science-related resources offer multiple options for introducing STEM concepts to students from kindergarten to grade 12. Resources from PBS Learning Media can complement an existing curriculum. 
9. National Science Teachers Association (NSTA)
The National Science Teachers Association (NSTA) is a STEM teaching tool that features a wide variety of free resources for educators and their classrooms. The searchable database can help educators find resources that complement their current science curriculum and engage and educate students in a fun, constructive format.
10. ScienceNetLinks
The American Association for the Advancement of Science (AAAS) provides ScienceNetLinks to offer teaching tools, interactive lessons and podcasts. ScienceNetLinks also offers lesson plans, hands-on activities and more for educators for kindergarten through grade 12. These resources can be used in various classroom settings and formats.
11. Teaching Advanced Physics (TAP)
The Teaching Advanced Physics (TAP) project provides ideas and resources for educators looking to teach physics to students from ages 16 to 19. Explore lesson plans and activities for each subject within physics, including mechanics, electricity, waves and vibrations and more. TAP aims to provide informative resources and help to educators new to this age group.
12. BrainPOP
BrainPOP is an excellent STEM education resource that provides educational animated movies for students in kindergarten up to grade 12. These animated movies can help explain concepts and nurture a stronger understanding of core subjects, including science, math, technology, English and health. BrainPOP strives to educate both children and adults in a fun, exciting way.
13. The Tech Interactive
The Tech Interactive is a hands-on technology museum with immersive exhibits to inspire young learners and their inner innovators. In addition to in-person activities, The Tech Interactive also offers educators virtual learning resources, including virtual labs and field trips. These resources can help you nurture the inner innovator and thinker in each student.
14. The JASON Project
The JASON Project is designed to connect students with researchers and scientists in real- and near-real-time, both in-person and virtually. Fostering relationships between researchers and students can provide an authentic and enriching science learning experience. These experts can mentor young students and discuss their shared love of knowledge.
15. Exploratorium
Exploratorium offers engaging resources exploring hundreds of different topics to create a fun, engaging learning environment. With over 650 art, human perception and science exhibits, Exploratorium is a STEM teaching tool that can help students learn in an exciting format that encourages continual growth and education.
16. Imagiverse
Spark the educational pursuit of knowledge in your students with the power of imagination. Imagiverse believes imagination knows no bounds and is a key aspect of a healthy learning environment. Imagiverse provides resources, activities and information for all to use to ignite a passion for learning and a healthy imagination.
17. Concord Consortium
The Concord Consortium is a useful STEM resource finder that filters scientifically accurate models and activities by resource type, grade level and STEM discipline. Educators can choose from materials designed for elementary students to higher grade levels. Bring out the inner scientist in your students with Concord Consortium.
18. How Stuff Works
How Stuff Works is a reliable STEM learning resource that provides clear and informative explanations of how everyday objects work. How Stuff Works is an exciting resource that helps teachers intrigue and engage students to learn more each day.
19. What Engineers Do
Uncover what it's like to be an engineer and understand the basic job functions an engineer is expected to perform. What Engineers Do can provide you with interesting information on the job outlook and prospects of engineers. This resource covers the working environment, salary, training and other relevant details related to working as an engineer.
20. The National Inventors Hall of Fame
The National Inventors Hall of Fame is an excellent resource that celebrates the entrepreneurial spirit and promotes creativity in students. This resource connects world-changing inventors with today's youth to foster learning through exhibits and presentations. Spark the creativity in your students and inspire their inner emerging creators.


About Our STEM Planners
Success By Design is a leading provider of top-of-the-line STEM planners, with unique planners for primary, elementary, middle school and high school students. STEM planners are specifically designed for different age groups to provide a structured and creative outlet for learning. A STEM planner combines the usefulness of a standard planner and integrates it with STEM-related facts and information to stimulate interest in STEM fields.
Careers within the STEM field require passionate individuals with an ongoing desire to learn and grow. This passion can start at an early age and be nurtured with engaging and exciting STEM planners. Integrating STEM planners into a classroom can help young learners discover their passion for science, technology, engineering and mathematics.
Primary STEM Planners
A primary STEM planner is ideal for young children who are just beginning their learning journey and are excited to take in new sounds, sights and experiences. Educators can help nurture this natural curiosity with primary STEM planners that can introduce children to the unique and engaging aspects of science, technology, engineering and mathematics.
STEM planners for primary students are colorful, engaging and uniquely suited for children in kindergarten through the second grade. These student planners feature large writing areas and assignment lines to help students organize their assignments and learn constructively. There are many unique facts, questions, topics and more to stimulate critical thinking within a primary STEM planner.
Elementary STEM Planners
Elementary school is a time for young children to explore their passion for learning and interest in STEM topics. Elementary STEM planners are ideal for students in grades three, four or five. Student planners cover various topics that can help students understand how each subject is vital to their lives and the world as a whole. With an educator's help, young learners can track daily assignments, homework or activities.
Elementary STEM planners are a great addition to any classroom and can help students learn and immerse themselves in these fundamental subjects. Featuring monthly topics, questions of the week and many interesting facts, Elementary STEM planners can continue to build on a child's desire to learn.
Middle School STEM Planners
Middle school STEM planners are designed for students in grades six through eight and are meant to enhance student's core understanding of various STEM topics. Many middle school students may begin to take a more serious interest in STEM subjects as they learn how each of these topics has lead to revolutionary innovations and impact daily life.
Student planners for middle school students can be a natural stepping stone along their learning journey that can prepare them for future education and a potential career in a STEM-related industry. Fostering a positive yet constructive learning environment is key to broadening students' horizons and understanding more complex topics.
High School STEM Planners
As students enter high school, they may begin to think more seriously about continuing education, starting a part-time job and even planning their future careers. High school STEM planners are specifically designed for students in grades nine through 12 to understand STEM subjects further. These student planners also feature information about many careers that directly rely on STEM topics. 
High school STEM planners provide effective time management tools to help students manage their schedules and stay on top of assignments. Many careers, even if they're not specifically STEM-related, require a foundational knowledge of STEM topics. STEM planners can help students learn and further understand the importance of STEM in various industries.


STEM Student Planners From Success By Design
Success by Design is proud to offer STEM student planners that are an essential tool for student development. Our planners are designed with students in mind and feature useful content written by education professionals to foster growth and positive change in students. At Success by Design, our goal has always been to assist educators and students in learning developing important organizational and scheduling skills.
Browse our selection of STEM student planners today or contact us to learn more.