Qualities of a Great School Principal
Qualities of a Great School Principal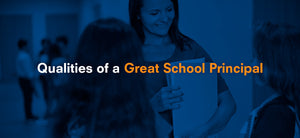 Kids go to school almost all day, every day, and school principals play a crucial role in students' lives, even if they don't interact directly with the students on a daily basis. Principals lead the teachers, and the teachers lead the students. That means if a principal is supportive and attentive to their faculty, their faculty is better prepared and motivated to provide the best atmosphere possible for the students. 
What makes an effective school principal, though? A great principal has an educator first and administrator second mindset — they strive to be the best they can be for those working under them as well as the students.
View More of Our Resources for School Principals:
1. Exhibits Leadership Skills That Help Motivate Students and Staff 
One of the qualities that makes an effective school principal is the ability to lead and motivate their teachers. Positive motivation stimulates change to create better procedures and fosters a collaborative atmosphere. If a principal guides their faculty to strive to be just one percent better each day, they can create the motivation to do simple things that initiate positive changes. These changes and the benefits of these changes are then passed down to the students. 
What's one way a principal can provide motivation? By being available. The primary role as a principal is to ensure teachers have materials they require and the time they need to teach. Having an open-door policy where teachers and students can come talk to you and even asking teachers what they want in terms of support from their principal can be highly motivating. It shows that the principal has a desire to do everything possible to generate success. 
Another action that can be inspiring is praise. Sending out a simple email or making a mention at staff meetings is a simple way to recognize individual or group accomplishments. 
In addition to the teachers, principals should also be able to motivate students in such ways as encouraging teamwork and setting goals. These factors generate enthusiasm for learning and pride in the school, which, in turn, help to create a positive experience for students. 
2. Has the Ability to Build Relationships
Another quality of a great school principal is their ability to build relationships. When working with the same people every day, it is important to be respectful, supportive and understanding of one another — and trusting teachers to know how to handle their jobs. 
Part of being supportive is having the ability to recognize and show appreciation for a job well done. A great school principal should individually speak with teachers about the good work they are doing, as well as provide constructive feedback to help teachers improve when needed.
Another way to build relationships is to be available and involved. A school principal should show up to activities and events, and they should pop into classrooms and take part in what the teacher is doing that day. This shows the teachers that their efforts are appreciated. Classroom interaction also helps the students get to know the principal and the principal get to know the students. 
It is also important to care about the teachers outside of school. To build quality relationships, it is crucial that a principal's teachers are recognized as human beings and not just cogs in a machine. A great school principal takes personal lives into account and even chats about appropriate topics that are not school related. They also check in on how their teachers are really doing and if there is anything they can do to make life at work a little better.  
3. Is a Good Listener and Communicator 
An effective school principal, without a doubt, has fantastic communication skills. The skills to be able to listen and communicate are some of the most important in leadership positions. A leader must be able to hear what those working under them are saying and develop effective ways to go about creating solutions. 
This means a great school principal listens to their teachers. They hear teachers' comments, concerns, words of affirmation and everything in between. If there is something going on within the school that needs to be addressed, an effective school principal communicates these issues and possible resolutions in a manner that keeps everyone unified and calm. 
4. Is Consistent and Fair 
A school principal must also be consistent and fair. It doesn't promote unity or a positive atmosphere if there are favorites or if the same situation is handled differently for different people. Many adults are aware that no two situations are exactly the same. However, when resolving an issue, solutions should still remain similar and fair to all parties involved. 
History may influence certain outcomes, but regardless of history, a great principal remains impartial in all situations.
5. Has a Vision and Continuously Strives for Improvement
A great school principal never stops trying to improve — and the improvements they want to make should always be communicated clearly. There is always new information and new things to implement in the school environment. 
In the same way, there are sometimes things that need to be fixed or improved. It is important for a school principal to be a visionary and to be innovative on how to handle new and old situations to find the best resolution. 
A Great School Principal Has All of These Qualities
A good school principal might have a few of these qualities, but a great school principal has all five characteristics. Teachers look toward their principal as a leader — someone to guide them through challenges and acknowledge all that they do for their students. 
It is the educators doing the vital work of teaching future generations, and great principals recognize this. They continuously strive themselves to refine their leadership strategies to be as supportive as possible to teachers and students.
Discover More of Our Resources for School Principals:
Promote Organization and Fun for Students and Staff With Success by Design
As a school principal, you can help your teachers encourage their students to be more organized and take pride in their work with quality planners from Success by Design. Our planners are available in formats to help students in all grade levels keep track of their assignments and projects. You can also customize covers to promote school pride and even include your school handbook at a low cost. Get in touch with our team today and let us help you find the products that encourage everyone in your school to do their best.