How to Teach Students to Use a Planner
How to Teach Students to Use a Planner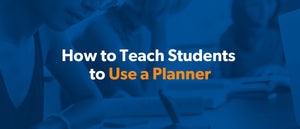 Every day, students have a lot to remember. Between completing homework assignments and studying for tests to participating in extracurricular activities, it can be easy for them to become disorganized. Help your students stay on the right track by teaching them how to use a planner. 
Planners keep everything students need to remember in one place to use as a reference that helps them succeed. These handy tools improve productivity, assist with time management, track progress and much more. Learn how to teach planner skills to students and help them be the best they can be! 
Selecting a Good Planner
When choosing planners for students, design is a crucial consideration. With so many variations, making the right selection can seem tricky. Factors that might influence your decision include the planner's size, organizational capacity and the space it offers to record assignments and reminders. 
You will want to ensure the planner's size is functional for the student. For instance, someone with large handwriting might need a larger planner that provides ample space for them to record everything comfortably and thoroughly. 
Look for planners with weekly and monthly calendar space. Students can use their weekly calendars to write down daily assignments or tasks. Meanwhile, monthly calendar space is ideal for filling in major or recurring events, such as a homecoming dance or band practice. 
Your student's planner design should also include areas to organize and track other essential notes and reminders. Spaces to check off completed assignments or write down due dates are particularly beneficial for planning. 
Teaching Students Proper Use and Planner Habits
When a new school year begins, things can seem chaotic. The start of a school year is the optimal time to teach students how to use their planners. You can also recommend helpful habits to help maximize a planner's effectiveness.
Set Reminders
When creating good habits, consistency is key. Designate a time during class every day to discuss any assignments or other points your students will need to remember. By doing this, students will learn the cue to begin recording, so they do not forget before class ends. Even if there are no assignments to complete, it is still a best practice to write a note. Leaving a blank space could cause confusion. Writing a simple phrase such as "none" for the class will let them see at a glance when there's nothing to manage for that subject. 
Implement a Reward System
Depending on the students' age and grade level, a reward system can be an excellent incentive for correctly using a planner. Reward younger students with things such as stamps and stickers for using their planner consistently. Not only will they feel excited because they accomplished something and got a reward, but they can also look back and easily see their past accomplishments throughout the school year. Other small prizes can also provide something for the students to work toward. 
Encourage and Support Students
Students may not always remember or even feel like writing in their planners. Here, your encouragement can be a game-changer. Supporting your students with reminders and tips will help them stay on the right organizational track with their planners. Encourage learners to establish these habits.
Cross off completed assignments: This habit will help learners keep track of finished and incomplete tasks. Remind them to finish and check off every assignment before the next school day begins. 
Use their planners to make lists of necessary materials: Kids can have trouble remembering all the supplies they need to bring to and from school on any given day. Give your students a boost by encouraging them to keep up-to-date lists.
Use "other" sections for reminders: Aside from homework, students tend to have a lot of extra things to keep track of, too. Remind students to use designated sections of their planners for things such as upcoming sports practices, dues payments, etc. Prompt them to look ahead to see what may be coming up in the next week. 
Rely on a color-coding system: Using a color-coding system can provide a visual enhancement to planner organization. Students can assign different colors to distinguish various projects. Priority levels, classes and upcoming due dates are only a few things color-coding can draw attention to. 
Revisit Throughout the School Year 
As the school year goes on, students' planner use may fall by the wayside, especially after new semesters and holiday breaks. Take time to revisit using planners with your students to get them back into the groove of regular use. 
It is also wise for teachers and parents to check the planners and initial them. Not only will this hold students accountable, but it can also shed light on struggles they may have in any given subject. While not all students will be happy about having their planners checked at first, it can quickly get them into the habit of using this tool in a way that benefits them the most. You can also set an excellent example for students by demonstrating your planner use.
Help Your Students Plan With Success By Design
Since 1988, Success By Design has been a leader in developing planners for students and teachers. Our priority is providing high-quality products to help students stay organized and well-prepared for whatever the school year brings. Our products are more than a place to write assignments. We carefully create each planner to be a life-changing tool to assist with student development. 
At Success By Design, our planner line is ideal for every student at any grade level. Whether your students are in elementary, middle or high school, we offer various options for you to choose from. 
Give your students a helping hand with a planner and contact us today!