Strategies for Getting Students to Complete Work
Strategies for Getting Students to Complete Work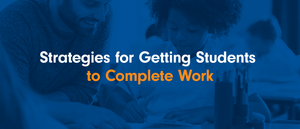 You're not alone if you're looking for ways to motivate your students to do their homework. Getting students to do their homework regularly can be a source of frustration for teachers. We know students who consistently complete homework will achieve more academically, particularly in high school, and students who don't do their homework will falter. 
As a teacher, you want your students to benefit from good work habits — for success in the classroom and in life. After all, effective homework strategies teach responsibility and self-discipline while instilling confidence and motivation. The good news is you have plenty of options to make an impact.
We've put together this guide to help teachers make the most out of homework time and motivate their students. Here, we discuss some reasons students don't do their homework, what to do when students don't do their homework, how to create engaging assignments and the best approaches to take with your students in the classroom. We also offer tips for organizing your students and developing effective work habits.
Reasons Why Students Don't Do Their Homework
When a student leaves school for the day, you hope you have done enough to set them up for homework time, but many factors are beyond your control. If a student frequently fails to complete assignments, consider what may be going on at home. Understanding the root of the problem can help you get a better handle on the situation. 
You may want to connect with the student in a different way, reach out to the parents or offer additional support. Once you're able to identify why students don't do homework, you can begin implementing strategies to encourage and enable your pupils to complete their assignments in the future. Here are some common reasons why students may not complete homework.
Issues in School
Although you try your best to deliver quality instruction and create meaningful habits, students sometimes face other school issues that inhibit their learning abilities. Thankfully, many of these problems have easy fixes, even if it takes time to craft a working routine that benefits the student. Here are common problems student face in school that can affect their homework performance:
Lack of understanding: Lack of understanding is one of the primary reasons students don't do their homework. When children don't receive enough instruction, they lack the basic skills they need to complete an assignment. It's essential that your homework instructions are as clear and specific as possible so that students can fully comprehend the task at hand.
No feedback: Many students feel motivated by feedback, which is why they may not complete their homework when they don't receive any praise or constructive criticism. Try incorporating homework feedback into your lesson plan by writing comments on completed assignments or building time into the day to address homework patterns with the class.
Being overwhelmed by the task: Hefty, time-consuming tasks can be mentally draining for students. If a student feels that an assignment will take a large portion of time and they don't know how to break it down, they may decide the work isn't worth the effort. For large tasks and projects, consider assigning one portion at a time. For example, you can easily break down a large research project. Have students craft source lists for the first few days and find valuable information. After this, ask them to create an outline. Then assign the paper due date. This way, the students have all the information they need to complete the assignment.
Problems at Home
Not every student has a supportive and welcoming home environment that enables them to do their best work. Although there may not be a surefire way to combat these issues, there are steps you can take to make homework completion more accessible and easier:
Parents are unavailable: A reason students may not complete homework is their parents are unavailable to offer help with at-home assignments. You can provide extra assistance to these students in the classroom

. Set

them up with a tutor or encourage them to reach out if they have any questions.
Lack of consistency: If a student's family moves around a lot, they may lack the consistency they need to sit down and work on their assignments at home. This is another instance where you can talk to the student and suggest a common workplace they can utilize to work on homework — like the library or an after-school study room — to give them a more stable place to focus.
A troubled home life: When kids have a chaotic or troubling home life, they may feel unmotivated to do their homework. You can handle sensitive situations like these by forming a positive relationship with the student, listening to their problems and making them feel valued and encouraged in the classroom.
Too much time watching TV or engaging in social media: Some students spend hours of their free time consuming social media and watching television, neglecting to do their homework. Unfortunately, you can't control how your students use their free time, but you can conduct parent conferences to discuss ways to help students focus at home.
Exterior Issues
Your students may have issues that span beyond school and home. Exterior challenges arise all the time, and although it can be difficult to pinpoint them, taking the extra steps to connect with your student will be worth it in the long run. Check out these exterior challenges to determine the best way to communicate with your students and help them overcome barriers:
Extracurricular activities or after-school jobs: Students who participate in after

-

school activities or jobs often have difficulty completing homework on top of their busy schedules. Activities such as these are enriching and shouldn't disable students from doing their homework. To accommodate, consider assigning homework ahead of time rather than the day before it's due so that students have enough time to manage their workload throughout the week.
No positive role models: Some students don't have access to positive role models who value education and encourage

them

to complete their homework. In these cases, you should try to work with the student, inspire them to succeed and teach them the importance of school.
Loud, distracting or cramped work environment: Another reason why students don't do their homework is that they may not have a work environment that is conducive to concentration and learning. Try having a one-on-one with your student to discuss what they can do to eliminate distractions, like staying after school to complete their assignments or spending time in the library.
Teenage pregnancies or parenting at a young age: If your student is pregnant or has recently given birth, they may be struggling to find time to do their homework. You can offer advice on how they can balance their homework and manage their time, or offer them resources for doing so.
Drug or alcohol use: This is another sensitive subject that can be difficult to navigate. If your student shows signs of drug use, you can talk to them privately and offer resources, contact the school counselor or have a conversation with their parents.
How to Motivate
Kids to Do

Homework

Communicating information effectively can set students up for success at home. On the first day of school, take a confident, upbeat approach with your students regarding homework. What you say and do in the classroom can help get students on track during homework time.

Below are eight homework strategies for teachers you can use to help your students complete homework. For the greatest impact, put these strategies into practice early in the school year.
1. Explain the Purpose of Homework
Students need to understand why it's important to do their homework. Homework is intended to be a positive experience that furthers learning, and your students should never view it as a punishment. Make it clear every assignment has a purpose, and mastery only occurs when students work independently, without the safety net of the classroom. Let students know you will always explain how a given assignment will fit into the big picture.
Emphasize how homework is a way to solidify the concepts students learn in the classroom, and the best way to accomplish this is through consistency and repetition. With this practice, students will feel confident in their skills and transition well into the next day's lesson. When students do their homework well, more learning can take place in the classroom every day. 
2. Set Expectations on the First Day
Research shows students are more successful when teachers set high standards, so make your expectations clear. Explain students who complete their homework assignments will be successful in your class. For those who don't, it will be a tough road ahead.
Keep your tone positive and let students know what to expect regarding workload. Clarify how you will grade homework and the consequences of missed assignments. Spell everything out in a homework contract and have students sign it. Just make sure to explain it, too, so the information sinks in.
3. Give Homework Daily
Assign each evening's homework in manageable chunks. If you send students home with a weekly packet of information, they may become overwhelmed. Some students may procrastinate and leave the entire packet until the last minute, which defeats the purpose of daily practice. Over time, daily assignments become part of a student's routine and part of life, not a chore.
4. Provide Clear Instructions
Make sure to provide clear instructions and post homework in multiple locations, such as in your classroom and on your website. Ensure your students always have the ability to find further explanations or assistance. For younger students, you can provide instructions and handouts to parents, so they can assist if their child gets stuck when working at home.
5. Set Aside Classroom Time for Independent Learning
Teachers often make the mistake of creating an environment of dependency in the classroom. Some students may overly rely on teachers and peers for guidance and information. To truly master the day's material, students need the opportunity to work independently through the learning process before they leave for the day. If this piece is missing, students may become frustrated when they sit down to do their homework.
6. Earn Respect
You need to gain a student's respect before you can expect to influence their homework habits. To gain respect, be likable, build rapport with your students and always follow through. When students respect you, they will start to trust what you tell them, and through your influence, you can inspire a strong work ethic.
7. Take a Personal Interest in the Lives of Your Students
Get to know your students. Try relating to students by engaging them in conversations about topics that interest them. Once you've established a personal connection, they are more likely to listen to you, and it will mean more when you tell them to complete their homework.
Additionally, you'll be better equipped to handle student barriers if you understand and connect with your students. Your students may find it easier to speak with you to craft solutions if they believe you genuinely care about their well-being and accomplishments.
8. Foster a Growth Mindset
Students who foster a growth mindset can make immense strides in their education and lives. This kind of mindset involves accepting and seeking challenges for the sake of learning and growing. When people adopt this way of thinking, they view mistakes and failure as a natural part of the learning process rather than becoming upset or frustrated.
You can help foster this mindset in your students by explaining the importance of practice, learning and failures. Providing meaningful feedback can help this process, as students learn the difference between judgment and helpful tips that enable them to grow.
Organizing Homework
and

Tips for Turning in Homework

As students move into middle school, organization skills can become an issue. They have multiple teachers, multiple assignments to juggle, supplies galore and about eight or nine different classes they need to show up on time for each day. All this can be a bit overwhelming.

Organization skills are key to homework success. A student with crumpled-up papers in their backpack may get by temporarily, but, eventually, things are going to fall apart. To head off homework nightmares, help your students get organized from the start.
Use the following organizational strategies early in the school year.
Set up a homework file: Students need a simple, fail-safe system to stay organized. Advise students to keep all their homework in a central location, such as a pocket folder. Designate one place, and one place only, for all subjects. If students start filing information in separate notebooks, or corners of their lockers, assignments will get lost.
Incorporate planning time: Set aside time each week for students to plan their homework schedules. Have students use daily planners to map out after-school activities and schedule in blocks of time to complete homework. They can even schedule in downtime if they choose.
Offer encouragement: Organizing and planning homework can be tricky for many students. Offer encouragement and praise for any amount of progress. Your feedback goes a long way. 
8 Ways to Create Engaging Homework Assignments
Even though you may have exemplary communication skills and the best-laid plans for organization, you still need to keep homework interesting. Homework needs to have a purpose and be engaging. If students don't see the point or understand the benefits, they will be less likely to complete assignments.
Here are eight ways to create engaging assignments that will aid in motivating students to do homework.
1. Create Quality Assignments
If you're going to give an assignment, make it worthwhile. Give clear and concise instructions and offer relevant resources. Try to narrow down the focus of the task. If you try to reinforce too many concepts at once, students may miss the point or feel overwhelmed. Never give busywork. If you get a reputation for giving busywork, students will not engage consistently and may miss assignments that really matter.
2. Give Homework as a Review or Practice
Homework is an opportunity for students to review and practice what they learned that day. It is not a time for teachers to introduce new material. Independent work solidifies skills learned in the classroom and boosts confidence and motivation. When students realize they can achieve success on their own, they feel good about themselves. When they feel good about themselves, they want to learn more. With the right tools in place, students will be motivated to complete homework assignments on a regular basis. 
3. Make Students Think
Give students the opportunity to have an "a-ha moment" during homework time. Allow them to think independently and extract information from other resources outside of the classroom. Challenge students to think for themselves and explore new ideas. Thinking outside the box can be exciting and motivating for students.
4. Offer Choices
Give students options whenever possible. For example, have a few topics to choose from when you give a writing assignment. When students get to make decisions about homework, they become more invested and enjoy the process more. Meaningful choices can encourage students to capitalize on their strengths and become more engaged with learning material.
5. Keep Assignments Interesting
Mix things up. If your students recognize you have a formulaic approach to homework, it can begin to feel like a repetitive chore. You may not know whether your students are learning from the material or memorizing the basic steps to find the answers. Additionally, students will tire of similar subjects and formats, so aim for a varied approach. One great way to pique a student's interest is to assign a long-term project. Encourage students to seek new and unique research and bring interesting conversations to the classroom.
6. Align Assignments With Skill Levels
Although you likely can't individualize every assignment, you can tailor homework to homogeneous groups within your classroom. For example, at-risk or gifted students may have different assignments than the rest of the class. In high school, students in advanced placement or honors classes typically receive assignments that require more abstract thinking. 
7. Assign a Manageable Workload
Be sure to schedule the right amount of homework. You want homework time to be effective and productive, not exhausting and overwhelming. Many educators follow the 10-minutes-per-grade-level rule. A first-grader would do 10 minutes of homework a night, a second-grader would do 20 minutes and so on, maxing out at about two hours for high school students. Coordinate homework with the other teachers on your team to keep the total amount of time consistent each night.
8. Make the Connection Between the Material and Life
If the subject matter is relatable, students are more apt to complete homework assignments. Hands-on assignments that make sense in the real world can spark a student's interest and really sink in. Be entertaining or share information through a story, then send students home with a related assignment.
For example, let's say you are working on persuasive arguments in your language arts class. You could set up a classroom trial where students are lawyers, judges, plaintiffs, defendants or part of a jury. After the lesson and some classroom discussion, you could have students write a few persuasive paragraphs from their perspective for homework. 
Teach Effective Homework Motivation Strategies
Good homework habits are key to getting the most out of an assignment and completing it on time, and it's never too early to start. If you're a kindergarten or first-grade teacher, consider sending age-appropriate homework home so students can begin to establish a routine. This can be as simple as having a parent read a few pages of a book to the student. 
Regardless of grade level, encourage students to practice good homework strategies. Teach these strategies to the group or individually for students who are struggling. 
Encourage students to:
Take notes during the school day.

Use an effective planner to

keep track of assignments and due dates

.

Set up a quiet place at home to study.

Assess assignment difficulty to determine how much time they will need to dedicate to completing it.

Gather and organize homework supplies such as pencils, erasers, calculators, paper, etc.

Use school resources during study halls and independent learning times.

Pick a time to do homework that works with the family schedule.

Practice time management strategies

and learn to stay on routine.

Turn off cell phones, television or any other distractions during homework time.

Download education apps that can help them focus or set timers during homework time. 

Prepare for a test or long-term assignments in chunks, instead of cramming.
Determine personal rewards for achieving their learning goals.

Work with other students who have similar questions or challenges.

Identify and understand their learning style. 
Reinforce Effective Homework Habits
Being a great teacher means reinforcing effective homework habits is a critical part of the process. When students complete their homework, be sure to acknowledge it, or the pattern probably won't continue. And, if students don't complete assignments, make sure you have consequences in place. 
Here are seven things you can do to reinforce good homework habits:
Always check homework: Only assign homework you plan to review and score. Hold students accountable by checking their homework in front of them each day. Taking time to get this system in place during the first month of the school year can really pay off. Once students realize you are the type of teacher who always checks homework, they'll be more likely to complete it. On the other hand, if you're too casual about homework, students won't think it's important and probably won't complete it consistently. Make sure to grade for effort, as this encourages students of all ability levels.
Provide prompt feedback: The sooner a student receives feedback, the more it will resonate. Who can remember the details of an assignment from a week ago? Immediate feedback has a

greater impact on student performance

than long turnaround times. If a student knows they did well on an assignment, they will feel confident and motivated to move on. If they didn't do well, you can evaluate why and remediate the situation. But, if too much time goes by, things can start to slip.
Praise students for both performance and effort: Everybody responds well to praise, so find something positive to say about a student's performance or effort. Make sure your praise is genuine because students know when it's not.
Use a points system with incentives: Assign points to completed assignments and take away points for missed assignments. Offer age-appropriate incentives for students with the highest number of points. You can also modify this system to incentivize the class as a group. Keep in mind, points systems with incentives are best suited for elementary and middle school students.
Allow make-up work with point deductions: To reinforce the importance of each assignment, give students the opportunity to make up missed work. Enforce consequences for missed assignments, or you will continue to see a pattern. Since every point counts toward a final grade, make sure students understand partial credit is better than no credit at all.
Give students a visual to manage missed assignments: When a student does not turn in homework repeatedly, print out a list of everything that goes into their grade. Highlight each missing assignment and the points associated with it. Some kids may not realize how many assignments they've missed, or how much this impacts their overall grade. Sometimes a visual can help drive the message home.
Offer help when needed: Some students have limited resources, and need to know they can ask you for help or guidance. You can set up help sessions before or after school, during lunch or even over the phone. Also, check with your school district to see what they offer. Some schools have peer tutoring programs, homework hotlines and study centers. You can also set up a study-buddy system in your classroom.
Connecting With Parents
Parents need to understand homework policies and expectations. At the beginning of the school year, let parents know they can contact you anytime to discuss homework or anything else. Make them feel like they are part of the team, and that they can make a difference. A good time to do this is at a parent back-to-school night. If parents don't show up, you can send them an email or give them a call the next day. Let them know when you are available and the best way to reach you. 
If a student is struggling with homework during the school year, reach out to their parents. Although some parents are more responsive than others, it's a good first step. Some parents may just be unaware of the situation and need to begin reinforcing the importance of completing assignments at home.
When you put all the right pieces in place, you can motivate and inspire students to learn and enjoy the homework process. Encouraging your students to do their homework routinely promotes a love of learning and boosts their confidence. Students typically want to succeed, and giving them the proper tools to do their best work will positively affect them for many years to come.
Check out Our Student Planners
At Success By Design, Inc., we help students plan and organize their homework and other activities. We know that, as a teacher, you want to give your students every opportunity to succeed academically and for the rest of their lives. Check out our student planners to get students on the right track at the beginning of the next school year and view our online special for reduced price assignment notebooks. It will be here before you know it.