Handwritten vs Typed Notes
Handwritten vs Typed Notes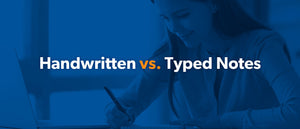 It's no surprise that laptops have become common in the classroom, many times taking the place of spiral notebooks and pencils for taking notes. Laptops, as with most technology, would seem to be more efficient than taking notes by hand. But it turns out there are still advantages to doing things the old-fashioned way. 
In a research article for the Association for Psychological Science, professors Pam Mueller and Daniel Oppenheimer, determined that taking handwritten notes focuses classroom attention and boosts learning in a way typing notes on a keyboard cannot. So why should students take the time to take handwritten notes? Keep reading to find out the top three reasons to handwrite notes and how to help students stay focused on their work.
Top 3 Reasons to Handwrite Notes
Here are some key arguments for handwritten notes from the study:
1. Writing Makes It Easier to Stay Focused
It is no surprise that with a laptop it is very easy to become distracted by instant messages, email and social media. Writing notes by hand takes away these distractions, allowing students to focus more on their work. Using a notebook and pencil enables the student to block out the digital world and focus solely on the task at hand – taking notes.
2. Writing Aids in the Learning Process
Writing builds better understanding. Taking notes by hand forces the brain to engage in some heavy "mental lifting," and therefore enables greater understanding of the information. Certainly typing notes on a laptop is faster than writing notes by hand, as students cannot possibly write down every word in a lecture. This method can result in mindless note-taking that disconnects students from the information they're trying to learn.
However, handwriting notes force students to listen, digest and summarize the lecture's main points, ensuring that they catch the most important parts of the message. Handwriting information is essential to the note-taking process because it encourages students to think more deeply about the information and reframe or paraphrase it in their own words.

Handwriting notes may be one of the most important study skills to have because it helps students think more critically about the subject. This makes reviewing the notes later easier because the student does not have to go back and relearn the entire concept.
3. Writing Boosts Memory Recall
During the study, Mueller and Oppenheimer tested students on either their handwritten notes or their typed notes. When given a week to study their notes, those who wrote their notes by hand outperformed laptop users. In fact, handwritten notes come out on top for both short-term and long-term memory retention. 
Handwriting stimulates more effective memory cues because the student is forming the context and content in their own words and their handwriting. Another experiment on word recall and recognition found that students remember vocabulary word lists better when they handwrite the words, rather than typing them out on a computer.
Using a pen and paper for the note-taking process may help students retain more information because it supplies them with more visual cues. For example, students may memorize the way the notes look on the paper or use different colored pens to organize each sub-topic. Visual learners may especially benefit from taking handwritten notes and find it easier to remember important information when it comes time to take a test.
Help Students Stay Organized With a Planner From Success By Design
What we can take away from this study is that even when technology allows us to do more in less time, it does not always foster learning. As it turns out, when taking notes – not only is the pen mightier than the sword, but also the keyboard! When it comes to taking notes, students need more brainpower and less technology.
The same may be true when it comes to writing in planners and keeping track of assignments. Students who handwrite their tasks in a planner may be more likely to remember to do them than students who try to record them digitally. Instead of using a virtual calendar or any other type of digital planning device, students should write their assignments in a planner to give them a concrete reminder of what they need to complete each day.
When you order 100 or more planners from Success by Design, you can customize your planner's cover to show your school's spirit. You can also get students folders that match their planners to help organize all of their handwritten notes. Success by Design has all of the materials your students need to excel in the classroom.
Check out our wide variety of planners or call our friendly Success by Design customer service team to find the right planner for your students.